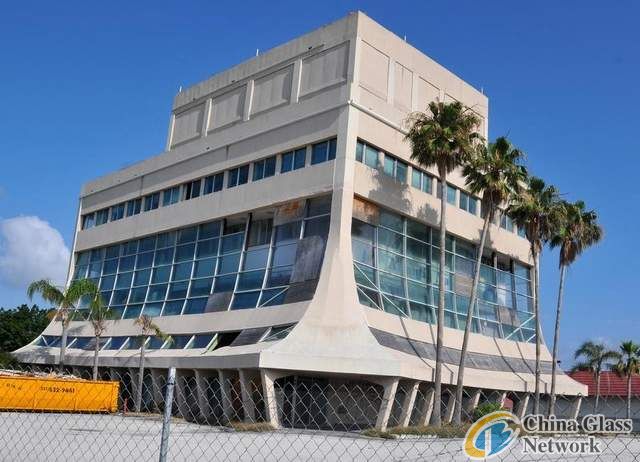 Built in 1961 as a futuristic landmark, the now-decrepit Glass Bank's southern face now looms before Cocoa Beach Post Office patrons like a seven-story haunted house:
Four missing windows, forming gaping holes in the structure's signature "curtain wall." Seven weather-beaten sheets of plywood, nailed atop missing and broken windows. And a large yellow trash container stuffed with wreckage.
The Cocoa Beach Code Enforcement Board has slapped a trio of liens totaling more than $100,000 on the Glass Bank Condominium Association.
And Commissioner Dave Netterstrom, who sat in the audience during last week's code board meeting, wants the city to foreclose on the property.
"We need to stand up for our community. There's obvious code violations, there's obvious safety issues — and we don't see anything being done," Netterstrom said.
The code board unanimously authorized its third lien on the property, adding to two previous, capped cases totaling $73,400 in fines. As of today, this newest fine stands at $34,400, and it increases $200 a day.
No one representing Glass Bank attended that meeting.
Board member William Vollmer requested monthly status reports detailing Glass Bank updates. He said he was dissatisfied with the owners' "wishy-washy response" to city officials regarding building violations.
"I don't see that they're getting back to us with factual information," Vollmer said.
Last October, city officials expressed alarm after fierce winds sent jagged glass flying airborne from the North Orlando Avenue building.
Joseph Yossifon, president of the condominium association, erected a chain-link fence and picked up demolition permit information to tear down the curtain wall, said Anthony Caravella, director of development services.
But no repairs have occurred since, Caravella said.
Scott Widerman is the Melbourne lawyer representing the Glass Bank Condominium Association. He said repairs cannot begin because of an ongoing lawsuit between his client and Frank Wolfe, the building's sole occupant, who lives in a top-floor penthouse.
The association wants Wolfe to pay seven liens totaling nearly $2 million in unpaid assessments. In a counterclaim, Wolfe stated that the association failed to maintain the structure and did not assess him for 28 years until 2009 — after the code board ordered repairs to begin.
Last month, mediation negotiations ended in an impasse. Both parties have requested a three-day trial, potentially starting May 2, before Circuit Judge Jeffrey Mahl.
Messages seeking comment from Wolfe's lawyer, Christopher Coleman of Melbourne, were not returned.
Widerman said Cocoa Beach officials want to acquire the Glass Bank — as evidenced by an April 2010 letter confirming a site tour — as a future City Hall site.
"The city wants to see this go on forever so the lien escalates, so they can foreclose on their lien and take the property for cheap," Widerman said.
In a separate lawsuit, Yossifon sued Wolfe last month alleging he is responsible for water-intrusion damages, and that he is trespassing. Yossifon seeks more than $15,000 in damages.