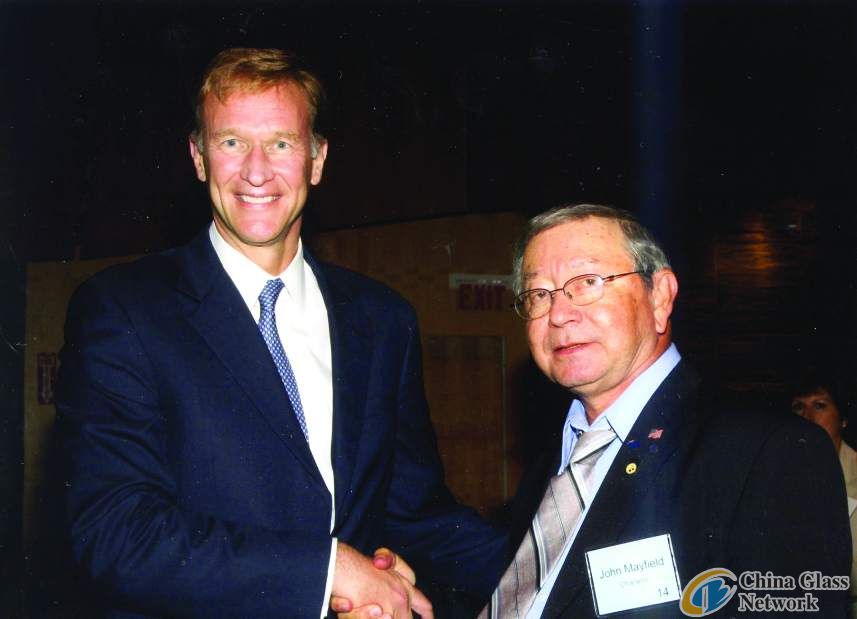 Wendell P. Weeks, CEO of Corning Glass, left, congratulates John Mayfield of Monessen on 50 years of service to Corning Glass during a special event recently in Corning, N.Y. held for company retirees. Chris Buckley | Valley Independent
Jim Teska so loved his job at Corning Glass in Charleroi that he once worked 220 straight days without a day off.
It took an ice storm – and an emergency declaration by the governor – to finally keep him home.
"I loved my job," Teska said.
John Mayfield began working for Corning Glass at its Paden City, W.Va. plant on July 2, 1962.
"I worked for two days and got a day off with pay," Mayfield said. "I thought 'what a great company!'"
Earlier this summer, Mayfield, of Monessen, and Teska, of Rostraver Township, traveled to Corning, N.Y., to be honored for the golden anniversary of their employment with the glassmaker.
The Retiree Service Award event honored 263 men and women with 50 years of service to the company. Corning recognizes years of service even after retirement. Mayfield and Teska both retired in 2000.
Others local people who were recognized, but did not make the trip, were: Joseph Bruno, with 75 years of service; and Emil Badzik, William Bronson, Thomas W. Chucuddy, Robert A. Damico, Thomas Fisher, Frank LaTour Jr., Phillip LoPresti, Mary Ann Melanowski, Francis A. Polaski, Malcolm L. Stoy, Daniel Wach, Stanley C. Yarulis, and William R. Yesensky.
A banquet was held in the basement of the Corning Museum of Glass.
Wendell P. Weeks, CEO of Corning Inc., met personally with each retiree, giving them a 50-year pin as well as a $1,000 check.
"How many companies give their employees a 50-year party after they retire?" Mayfield asked. "Corning may be the only one."
The two men said they still receive health care benefits from Corning.
The two Valley residents began their careers with the company weeks – and about 100 miles – apart, but they ended their careers in the same plant.
Teska opened his own business, Hilltop Machine Shop, which served contractors in the area from 2000 to 2011.
Mayfield was living in West Virginia and looking for a job when a neighbor recommended he apply at Corning.
Mayfield worked at the Paden City plant from 1962 until it closed in 1989.
The Suprema model of glass made in Paden City at the time was transferred to the Charleroi plant.
Mayfield's experience in the production of Suprema made him an asset at Charleroi, where he worked for 11 years before retiring.
"I enjoyed my job so much I never minded going to work," Mayfield said.
Both men were active in the plant. Mayfield was an EMT and involved in safety. Teska served on the safety committee and the hazmat team.
Mayfield has an extensive collection of glass, which he recently showed to Dale Rusen, plant manager at World Kitchen, the firm that now operates the former Corning Glass plant in Charleroi.
Both Teska and Mayfield fondly recalled their experiences at Corning.
"It was a great place to work," Teska said. "Safety was stringent."
"Everybody was friendly," Mayfield added. "It was a real nice place to work."
Chris Buckley is a staff writer for Total Trib Media. He can be reached at 724-684-2642 or cbuckley@tribweb.com.