Nestled in the historic district, the Hilton Savannah DeSoto Hotel completed a major renovation in 2009. A new porte-cochére and entry lobby are amongst the notable improvements to the 1890′s vintage, 15-story property. Welcoming and sheltering guests as they enter the hotel, Super Sky Products Enterprises, LLC provided a custom vaulted skylight.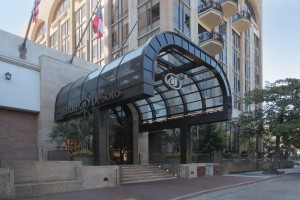 To achieve the intended look and performance, Super Sky worked with EDI Architects, Inc. of Houston, Texas and Bosse Mattingly Constructors of Louisville, Ky. The aluminum-framed ridge skylight measures 21 feet, 4 inches by 20 feet 4 inches. Linetec finished the framing in a Quaker Bronze color using a high-performance 70% polyvinylidene fluoride (PVDF) coating.
"Shielding against aging, weathering and pollution, 70% PVDF coatings are some of the most durable available," says Linetec's senior marketing specialist, Tammy Schroeder, LEED® Green Associate. "These coatings meet the most demanding, exterior, architectural specification AAMA 2605-11. The stringent performance criteria ensure the finishes have a long lifecycle. This reduces the need for maintenance and replacement, minimizing the associated time, cost and materials."
Efficient use of resources and a commitment to sustainability is a core value at Linetec. As an environmentally responsible finisher, Linetec safely captures and destroys the liquid paints' volatile organic compounds (VOC) content before the finished material arrives at the job site. For projects seeking LEED certification and other green goals, choosing durable products with no-VOC finishes can be an important part of the selection and specification process.
Along with the finish's environmental and performance qualities, Super Sky's skylight for Hilton DeSoto contains 800 square feet of Viracon's laminated glass to mitigate severe heat and storms.
Rain or shine, Hilton Savannah DeSoto Hotel offers 245 rooms plus five suites and bar/lounge, restaurant, coffee shop, outdoor pool with bar, gift shop, exercise center and 20,000 square feet of banquet and conference facilities.
**
Hilton Savannah DeSoto Hotel; 15 East Liberty St., Savannah, GA 31401
* Owner: Hilton Worldwide
* Architect: EDI Architects, Inc.; Houston, Texas
* Contractor: Bosse Mattingly Constructors; Louisville, Ky.
* Skylight manufacturer and installer: Super Sky Products Enterprises, LLC; Mequon, Wis.
* Skylight glass manufacturer: http://www.viracon.com; Owatonna, Minn.
* Skylight finisher: Linetec; Wausau, Wis.