Eleven members of the American Architectural Manufacturing Association (AAMA) sponsored 250 World Vision SchoolTools backpacks, at a total cost of $5,500, to benefit at-risk Florida children. Backpacks were assembled with school supplies by members' spouses as a part of AAMA's 75th Annual Conference in Naples, Fla.
"Although the Spouse Program has been a consistent part of AAMA conferences, this is the first year spouses participated in a philanthropic event," says Rich Walker, AAMA's president and CEO. "We are especially grateful for their hard work and are proud of our members who sponsored 250 backpacks to help us reach our goal."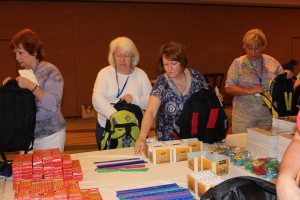 "It was a truly great experience working with AAMA in hosting the SchoolTools event," added Mary Garcia, World Vision's corporate relations director. "Now, hundreds of Florida children have the necessary school supplies that better equip them to learn and build self-esteem."
The following AAMA members contributed to the SchoolTools event. The number of backpacks sponsored by each company is noted in parentheses.
* Quanex Building Products (100)
* Sapa Extrusions (50)
* Luoma Contract (25)
* Mr. and Mrs. Terry Abels (10)
* Azon USA (10)
* Gaska Tape (10)
* Keymark Corporation (10)
* Milgard Manufacturing (10)
* Pella Corporation (10)
* Winco Manufacturing (10)
* Apogee Enterprises, Inc. (5)
###