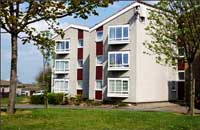 Pilkington K Glass has been recommended by the Housing Corporation's Fit For The Future – The Green Homes Retrofit Manual
The manual is a guide to help social landlords improve the environmental performance of their existing housing in line with government CO2 emissions targets. It highlights Pilkington K Glass as a perfect way to save energy when upgrading single-glazed windows to low-e double glazing. Its appearance in the manual demonstrates the credentials of Pilkington K Glass and its energy saving benefits.
Andy McDowell, National Business Development Manager, Pilkington, said: "Pilkington K Glass has been at the forefront of low-e glazing since its launch 15 years ago. Replacing inefficient single glazed windows with Pilkington K Glass is a simple step social landlords can take to meet thermal performance levels in their existing housing. We are delighted that our product has received a mention in such an important document from an influential government organisation."
Pilkington K Glass is an integral part of leading energy-efficient glazing, Pilkington energiKare. It combines with low-iron, high visibility glass, Pilkington Optiwhite to reduce the amount of net heat lost through windows by up to 90 percent and allow more heat (energy) from the sun in through the window.