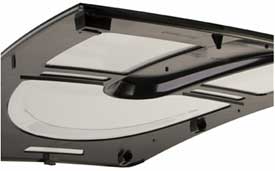 As automakers move towards the broader adoption of lightweight polycarbonate glazing materials to assist with fuel economy improvement and CO2 emissions reduction, SABIC Innovative Plastics has the answers to new design and manufacturing challenges facing automotive engineers.
Through its Exatec automotive glazing organization, a range of custom solutions are available which provide OEM's and Tier-1 suppliers with the broadest range of automotive glazing technologies. This includes new research into the best part design approach for optimum coating performance. A study recently completed at the Bergen Op Zoom, Netherlands, Glazing Center of Excellence revealed the effect of different transition profiles (where the clear polycarbonate window meets the opaque "black-out" material) on the surface quality of silicone hard-coated parts.
The results were generated using a new panoramic roof prototype tool (shown here) and indicated the best transition designs for suppliers to implement, which will achieve higher quality appearance and better manufacturing yields for wet-coated and plasma-coated exterior surfaces.