Results FY 2014: - 13.0% sales growth (8.3% in Swiss francs) to CHF 5,571.3 million; - Record sales in all regions; - EBIT up 21% to CHF 633.2 million; - 28% increase in net profit to CHF 441.2 million
In the 2014 financial year, Sika continued on its successful growth and achieved the best result in the company's history. Sales reached record levels in all regions and all relevant growth targets for 2014 were exceeded. High growth momentum and disciplined cost management led to new record figures of CHF 633.2 million (+21.0%) for the operating result and CHF 441.2 million (+28.0%) for net profit.
CEO Jan Jenisch: "Our record year in 2014 is the result of our strategic continuity and the expertise and commitment of our 16,895 employees. Their energy, ideas and active embodiment of the Sika Spirit have taken Sika to the next level of performance. On behalf of Group Management, I wish to thank them all for their hard work and loyalty over the past year."
Regions reporting record sales
Sika significantly exceeded its growth targets for full year 2014. It increased sales by 13% (in local currencies) to CHF 5,571.3 million. All regions contributed to this growth and set new sales records. The negative currency effect for the full year was 4.7%. Sales in Swiss francs increased by 8.3% after adjustment for currency effects.
Sales in the region EMEA (Europe, Middle East, Africa) experienced an increase of 13.3%. Visible growth drivers in the Middle East and Africa and the moderate recovery seen in the southern European markets had a positive impact on the region's development. North America recorded a 7.9% increase in sales. Construction projects put on hold in recent years are now being carried out. The region Asia/Pacific witnessed a 12.9% increase in sales, breaking the CHF 1 billion barrier for the first time. At 16.0%, sales growth remained consistently high in Latin America in 2014. In a demanding business environment, Sika benefited from its strong market presence.
Strategy 2018 is delivering results in excess of Sika's targets and expectations. Its core features are the accelerated development of growth markets, investments in new factories and the launch of new products. A key growth driver in the year under review was the high-margin mortar business, which recorded sales growth of 31%. The strategy is implemented by results-driven employees who are ready to take responsibility and whose main priority is the customer.
Eight new factories and 70 new patents
Accelerated development and expansion in the emerging markets continued in 2014. New factories were opened in Brazil, Mexico, Indonesia, Singapore, India and Serbia. In the US, two new production facilities were commissioned in Atlanta and Denver.
The founding of six new international subsidiaries in Sri Lanka, Bosnia-Herzegovina, Albania, Mozambique, Ivory Coast and Nigeria has created a basis for tapping additional markets.
The 873 employees working in R&D are the main drivers of new product developments and Sika's innovative strength. In the 2014 financial year, 70 new patent applications were filed, and a large number of new products were launched in all key target markets.
ABOVE-AVERAGE PROFIT GROWTH
The high growth momentum translated into an above-average increase in operating result and net profit. The gross result was increased to 53.0% (2013: 52.4%). Personnel expenses and other operating expenses rose less strongly than in the previous year. EBIT and net profit reached new record levels. The operating profit was 21.0% higher at CHF 633.2 million (2013: CHF 523.5 million). The EBIT margin was 11.4% (2013: 10.2%). Sika improved its consolidated net profit by 28.0% to CHF 441.2 million (2013: CHF 344.7 million).
IMPROVED BALANCE SHEET FIGURES
At 17.8%, net working capital as a percentage of net sales was held at a consistently low level in 2014 (2013: 17.4%). Operating free cash flow came to CHF 417.5 million in the year under review (2013: CHF 432.7 million). Sika held cash and cash equivalents of CHF 898.8 million at year-end (2013: CHF 1,028.3 million). Net debt was reduced to CHF 82.5 million (2013: CHF 271.4 million); the equity ratio now stands at 49.5% (2013: 45.1%).
ENSURING THAT THE SIKA SUCCESS STORY CONTINUES
On December 8, 2014, Sika stated its position on the hostile takeover bid by Saint-Gobain, and shortly afterwards presented concrete proposals for ensuring that the Sika success story continues. The Board of Directors and Group Management reject the change of control in the proposed form. They will continue to act in the interests of Sika and its stakeholders, and, in the light of this background, are open to constructive talks with all the parties involved. The goal is to continue to move Sika's successful growth strategy forward unimpeded and thus secure the company's future.
BOARD OF DIRECTORS PROPOSES PAYMENT OF 26% HIGHER DIVIDEND
At the Annual General Meeting, the Board of Directors will propose to the shareholders an increase in the dividend to CHF 72.00 per bearer share (2013: CHF 57.00, +26%) and CHF 12.00 per registered share (2013: CHF 9.50, +26%).
OUTLOOK FOR 2015: CONTINUED GROWTH
Sika is determined to continue the expansion in growth markets with seven to nine new factories. Sales growth is expected to be 6 to 8%, at constant exchange rates and margins are expected to be on the level of 2014. An uncertainty represents the unknown outcome of the hostile takeover attempt by Saint-Gobain.
Key Figures 2014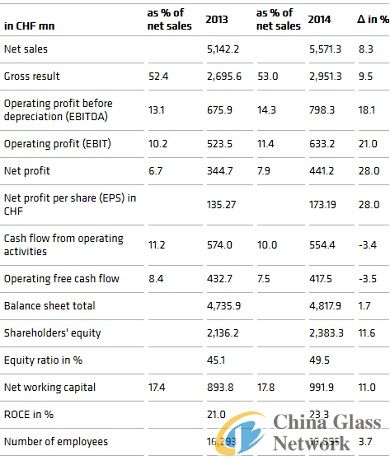 Financial Calendar
Net sales first quarter 2015: Tuesday, April 14, 2015
47th Annual General Meeting: Tuesday, April 14, 2015
Half-year report 2015: Friday, July 24, 2015
Result first nine months 2015: Thursday, October 29, 2015
Net sales 2015: Tuesday, January 12, 2016
Media conference/analyst presentation on full-year
results 2015: Friday, February 26, 2016