It's no secret sunlight is scarce in Seattle during the winter months. Many of us leave for work in the dark, and return home when it's even darker. If we get a chance to step outside midday, odds are good the sky is gray and rain clouds imminent. Since this gloomy weather forces many of us Seattleites indoors for extended time periods, we particularly appreciate good daylighting design in the winter.
Buildings with balanced natural light distribution can help support workplace productivity, offset spikes in electrical lighting loads and combat sun-dependent mood disorders (the latter of which is extremely valuable in our vitamin D deficient city). Studies also continue to show access to natural light can create environments in which students learn better.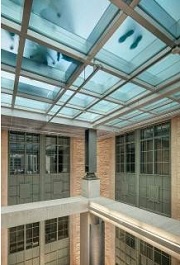 Given these benefits, building teams are more frequently incorporating strategies for maximizing daylight capture within their building plans. Increasingly, we're seeing these strategies include fire-rated glazing.
Why fire-rated glazing?
While fire-rated glass is best known for its ability to help contain a fire to a limited area, its see-through form can perform double duty and allow light to reach deep into interior spaces that previously required opaque fire-blocking materials. In fact, since fire-rated glass products are now available that pass the same tests as solid walls, the material's daylighting potential has never been greater. Building teams can select from a range of fire-rated glazing systems that exceed 25 percent of the total wall area, including fire-rated glass curtain walls and large, transparent fire-rated glass wall panels.
Daylighting dividends
Using extensive fire-rated glazing in areas with fire rating requirements makes it possible to maximize light penetration in ways that were not previously possible. For example, building teams can place fire-rated glazing systems directly in line with non-fire-rated glazing systems. This can extend line of sight and bring greater amounts of natural light into lobbies, meeting rooms and classrooms.
Another popular method for boosting daylight levels is to stretch fire-rated glass systems across multiple stories or around atriums. This design strategy helps create open, light-filled spaces while providing critical compartmentation, as was the case in the recently opened Fulton Center transit hub in New York City. Fire-rated glazing harnesses light from a central sky reflector to draw daylight deep within the new transit station.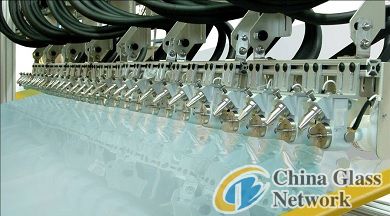 As you consider your next building project, we sun-starved Seattleites implore you to let the sun shine into your buildings. We thank you, and your building users will thank you for the inviting interiors created with natural light.
What's your experience with fire-rated glazing in daylighting designs? Any projects where it was a key factor?