Video discusses factors to consider when building with large panels of insulated glass
Large insulated glass units (IGUs) make economical, dramatic-looking buildings possible, but PPG Industries suggests keeping some factors in mind as they are being specified to ensure a successful and safe project. A new six-minute video in the PPG Glass Education Center outlines seven factors—wind load, thermal stress, heat treating, fabrication, weight, field issues and glazing issues—that can impact how large IGUs are specified and includes recommendations for addressing them.
PPG Industries (NYSE:PPG) has posted a new video about specifying large insulated glass units (IGUs) in the PPG Glass Education Center, an online education portal that helps architects, specifiers, students and construction industry professionals learn more about designing, specifying and building with glass.-- In the six-minute video, Paul DiCesare, PPG manager of architectural quality assurance, flat glass, discusses seven factors that can impact how large IGUs are specified and PPG recommendations for addressing such factors, including:
Wind Load: Center-of-glass deflection—the physical bowing of glass caused by wind load—can affect the comfort of building occupants and cause IGUs to lose support where the edges meet the frame assembly.
Thermal Stress: Because of their long perimeters, large IGUs have a greater risk for thermal stress breaks, which occur when the center of glass becomes hotter than the edge.
Heat Treating: Large glass units typically need to be heat-treated to resist wind loads and thermal stress breaks, but heat treating also increases the potential for glass distortion.
Fabrication: Because of their size, large IGUs are more difficult to manage throughout the fabrication process and tend to experience more problems with spacer and seal ruptures, distortion, and damage within the sealed air cavity.
Weight: The sheer weight of large IGUs can increase the chance of damage during fabrication, so it is essential to work with glazing contractors and glass fabricators that have the capabilities, equipment and experience to handle them properly.
Field Issues: It is important that glazing contractors keep safety in mind. That means having enough people with experience and the right equipment on hand to prevent injuries and glass breakage when large IGUs are handled in the field.
Glazing: Large IGUs require glazing systems specifically designed to support the weight of the glass. Glazing costs vary, so it's important to weigh the cost of a glazing versus the benefit it provides.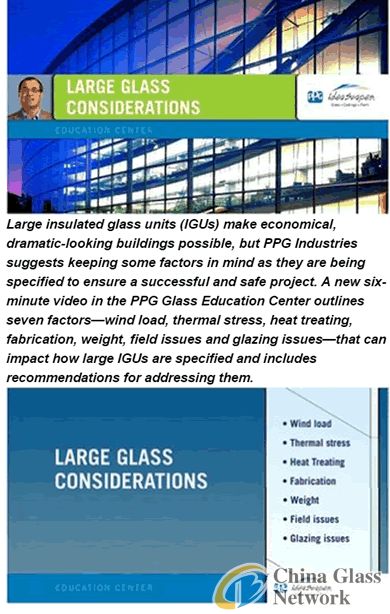 Launched in 2013, the PPG Glass Education Center is a growing library of glass technical information that serves as an objective, user-focused online resource for glass and building industry professionals. Content is updated regularly based on the most frequently-asked questions PPG fields on its website, during sales calls and through its call center.
To watch the video on the PPG Glass Education Center, visit www.educationcenter.ppg.com. For more information about PPG's full collection of architectural glass products approved by the CRADLE TO CRADLE CERTIFIED(CM) program, visit www.ppgideascapes.com or call 1-888-PPG-IDEA (774-4332).
PPG: BRINGING INNOVATION TO THE SURFACE.™
PPG Industries' vision is to be the world's leading coatings company by consistently delivering high-quality, innovative and sustainable solutions that customers trust to protect and beautify their products and surroundings. Through leadership in innovation, sustainability and color, PPG provides added value to customers in construction, consumer products, industrial and transportation markets and aftermarkets to enhance more surfaces in more ways than does any other company. Founded in 1883, PPG has global headquarters in Pittsburgh and operates in nearly 70 countries around the world. Reported net sales in 2014 were $15.4 billion. PPG shares are traded on the New York Stock Exchange (symbol:PPG). For more information, visit www.ppg.com and follow @PPGIndustries on Twitter.
Bringing innovation to the surface is a trademark of PPG Industries Ohio, Inc.
Cradle to Cradle Certified is a certification mark licensed by the Cradle to Cradle Products Innovation Institute.
Contact: Robert J. Struble PPG Flat Glass 412-820-8138 rstruble@ppg.com www.ppgideascapes.com
See more at: http://corporate.ppg.com/Media/Newsroom/2015/PPG-Glass-Education-Center-adds-video-about-specif#sthash.IEwG9Dvm.dpuf