WDMA Market Study Reports on Key Industry Trends - The Window and Door Manufacturers Association's (WDMA) recently released Window and Entry Door 2015 U.S. Market Study shows continued growth for the residential window market through 2016. The study, prepared, researched and analyzed by Metrostudy and the Virginia Center for Housing Research at Virginia Tech, forecasts overall residential window market growth of 6.2% for 2015 and 3.9% for 2016. This follows market growth of 12.7% in 2014.
From a product mix standpoint, in 2014 vinyl windows made up nearly 68% of the residential market, followed by wood clad windows at 20.5%.
The WDMA report delivers timely, detailed national and regional information and trends on residential windows, residential entry doors, and light commercial windows, including product relationships; historic data for 2012 and 2013, and forecast data for 2015 through 2017.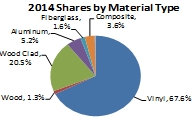 The WDMA Window and Entry Door 2015 U.S. Market Study is available for purchase online in the WDMA Bookstore.
Founded in 1927, the Window & Door Manufacturers Association is the premier trade association representing the leading manufacturers of residential and commercial window, door and skylight products for the domestic and export markets. WDMA members are focused on Total Product Performance™ products that are designed and built to performance-based standards. The association is focused on key member needs in the areas of advocacy, product performance, education and information and facilitating business interactions and relationships in the fenestration eco-system. For more information, please visit www.wdma.com.