The GLASS, THE GREAT UNEXPECTED exhibit will offer visitors and exhibitors at Vitrum 2015 an anthology of some of the most meaningful productions of excellence in terms of glass processing, from antiquity to contemporary times, and into the near future.
The most ancient piece on display is this amphora depicting a gladiator scene dating back to the second century AD (currently being restored specifically for the show, with the help of Vitrum), and exhibited only once before to the public, in 1964.
It is a Vitrum tradition to try to fully engage its public, comprised mainly of exhibitors and visitors, by offering different forms of enjoyment as an added draw, above and beyond the already ample stimulation provided by viewing the best products the market has to offer. Of course, Vitrum's primary aim is to bring together manufacturers and users of glass processing machines and accessories from around the world thus, with each edition, validating its role as the industry's leading European event of the year. But, to highlight Italy's core contribution to the history, technology and design of glass, Vitrum is committed to and has consistently documented the capacity for innovation that Italian-made products (and particularly glass) well-represent around the world. Vitrum 2015 is upholding this tradition with a new, panoramic interpretation.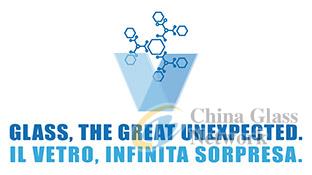 The exhibit, hosted in pavilion 22 at Vitrum 2015, branches out across three adjoining but diverse areas, all connected to each other through a unique visual format and a consistent conceptual pathway. It will provide a broad overview of the use of glass in Italian products of excellence, from the ancient past to the present, and on to the most innovative future applications, underscoring the uniqueness of Italian made glass products.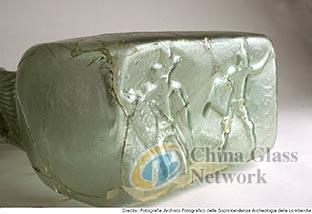 The show is divided into three sections:
History and Design
Glass in Architecture
Glass and New Technologies
Headliner in the History section is a piece of exceptional value, discovered in the ancient necropolis of Aqui Terme in 1933 and exhibited to the public only once, in 1964. It is an amphora depicting a gladiator scene that dates back to the second century AD. Vitrum is contributing to restoration of the piece to its original splendor. Rounding out this theme is a brief but very captivating glance at pre-industrial glass processing with the description of the site of Aquileia, subject of "The Great Lost City" exhibit recently held in London and curated by Peter W. Marshall.

In the Design area of the first section, two significant pieces representing the evolution of industrial design will be on display: an extremely rare exemplar of a glass radiator dated 1941 (one of only a few that were manufactured, and still in perfectly functioning condition); and the acclaimed Ghost chair designed by Cini Boeri in 1987 and produced by Fiam. Specifically for Vitrum, the celebratory 2007 version of the chair, made of mirrored glass, will be exhibited.