New sorting capability, larger photos increase functionality for architects. PPG Industries (NYSE: PPG) has relaunched the case-studies feature on PPGIdeaScapes.com, introducing a more contemporary visual display, easier navigation, larger photographs and new search tools to make the content more functional for architects and designers.
Among the most significant improvements to the case-studies page, which highlights more than two-dozen buildings demonstrating innovative applications of PPG glass, is an advanced sorting capability that enables architects, designers and other visitors to access projects by product, building type and location. Visitors also can view enlarged photos of completed buildings, which include many awardwinning landmarks, captioned with names and locations. A single mouse-click enables access to complete case studies listing specified PPG products and containing additional information such as architect and subcontractor credits, design and specification details, and architect quotes in downloadable PDF form.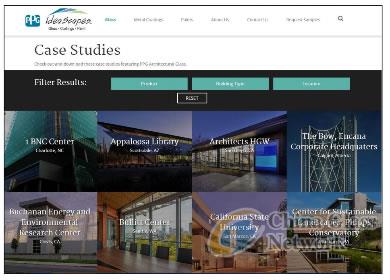 Glenn T. Miner, PPG director of construction, flat glass, said the case studies are designed to inspire architects and designers and to provide practical ideas for specifying PPG products.
"Architects and designers often want to verify how products will look and perform on high-profile buildings. These stories demonstrate how PPG glass products can enable them to meet a wide range of design, construction and performance challenges."
One of the industry's most comprehensive portals for glass research, product selection and specification, PPGIdeaScapes.com offers architects, specifiers, engineers, contractors and other building professionals access to helpful tools, a robust project gallery, technical documents and an easy-to-use sample order system. To learn more visit www.ppgideascapes.com or call 1-888-PPG-IDEA (774-4332).
PPG: BRINGING INNOVATION TO THE SURFACE.(TM) PPG Industries' vision is to be the world's leading coatings company by consistently delivering high-quality, innovative and sustainable solutions that customers trust to protect and beautify their products and surroundings. Through leadership in innovation, sustainability and color, PPG provides added value to customers in construction, consumer products, industrial and transportation markets and aftermarkets to enhance more surfaces in more ways than does any other company. Founded in 1883, PPG has global headquarters in Pittsburgh and operates in more than 70 countries around the world. Reported net sales in 2014 were $15.4 billion. PPG shares are traded on the New York Stock Exchange (symbol: PPG). For more information, visit www.ppg.com and follow @PPGIndustries on Twitter.
News –150804PPGGECCaseStudyPage– Bringing innovation to the surface and PPG IdeaScapes are trademarks of PPG Industries Ohio, Inc.
PPG Industries (NYSE: PPG) has relaunched the case-studies feature on PPGIdeaScapes.com, introducing a more contemporary visual display, easier navigation, larger photographs and new search tools to make the content more functional for architects and designers. The page features an advanced sorting capability, enabling visitors to access more than two dozen buildings—each demonstrating innovative applications of PPG glass—by product, building type and location. Contact: Robert J. Struble PPG Flat Glass 412-820-8138 rstruble@ppg.com www.ppgideascapes.com