By the end of the year at the site being built in Kyzylorda glass factory will finished goods warehouse and railroad tracks. On the eve of the professional holiday of builders said plant. A first production plant in the country is the only release in 2017.
Let me remind you, the annual capacity of the plant, where in addition to the sheet, will produce laminated, insulating, toughened glass and energy-saving, - two hundred thousand tons a year. Our correspondent Sharipa Saktapova visited the site.
Even the twentieth of May in this part of the industrial zone of Kyzylorda was bare steppe. Builders began to tamper only fifty hectares of land. And they begin to dig trenches. Under the future plant for the production of glass. A date has already been established 45 basic units under the rack warehouse of finished products. Soon, the builders will start the installation of the main span of the building.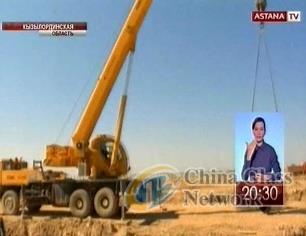 Ran Tokayev, Director of Construction Ltd. «ORDA GLASS LTD»:
This year we plan to build a warehouse for finished products and the railroad tracks. Before the onset of winter we have to finish all the concrete works and metal finish, close the installation of sandwich panels.
80 percent of the total project cost of 52 billion tenge Kazakhstan Development Bank will finance the remaining twenty - American company «Stewart Engineers». In the production of glass will be used only local raw materials. Silica sand, limestone, dolomite.
Galim Amreyev, deputy akim of Kyzylorda region:
By early September, somewhere in the 30-40 percent will be performed works in the warehouse of finished products. Currently under construction is already taken more than a hundred people, the pace of work increases, so will continue to increase jobs, here on the spot.
Total factory, where the company introduced the technology «Stewart Eng?neers" three hundred people will work. Kazakhstani specialists will be trained on American industries. In the summer of 2017 the plant will produce the first batch of glass. At the initial stage - for the needs of construction. It is expected that 70 per cent of the finished product will satisfy the needs of the domestic market. The rest - will be exported. In particular, the countries of the Customs Union and Central Asia.