A Fuyao Glass America worker in Moraine handles a test windshield. The plant will have 400 workers by the end of 2015 and 1,550 workers in three to five years.
MORAINE — Fuyao Glass America Inc. and the Montgomery County office of Ohio Means Jobs are launching a new push for qualified job applicants.
Fuyao's Moraine glass fabrication plant has more than 400 employees today and will have more than 1,500 employees when it's fully operational, said Tom Thompsen, Fuyao Glass America human resources manager.
The plant is expected to be world's largest standalone auto glass plant when it is fully staffed, said John Gauthier, Fuyao Glass America president.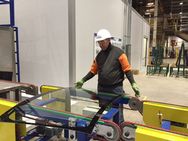 But more employees are needed to install equipment and production lines, to master those lines and then to operate them, both men said.
The plant brings in 50 to 100 new workers a month and will do so for the foreseeable future, Gauthier said. New hires will be based on when new workers are needed.
A sixth group of new workers is now being brought into the plant at 2601 W. Stroop Road, Thompsen said.
"We've got a good amount coming on in," he said.
Hiring for a plant of this size is not a one-time job, Gauthier said. It's continuous.
The plant will have several types of glass-making processes, including laminating (or layering sheets of glass together) for windshields, tempering for back lights, cutting, grinding and more. Employees will be needed for all of that, as well as handling materials, driving trucks and logistics roles.
Production workers are being hired at $13-$17 an hour, Gauthier said. Skilled-trade employees, such as electricians, will be paid more.
Applicants are asked to visit the job search section at OhioMeansJobs.com, entering the keyword "Fuyao OMJMC" into the keyword field. There, they should find a list of Fuyao job openings.
Online, applicants should find seven to 10 available types of jobs openings, including production associates, which the company is "ramping up" to hire, said Mark Anderson, a spokesman for Ohio Means Jobs-Montgomery County.
More than 2,000 people have inquired on how to apply for jobs since Fuyao started hiring locally, Anderson said. Not all went through the interview or application process.
If applicants are qualified, they can expect a call and the start of a hiring process that Gauthier called "pretty thorough." That includes testing, a personal interview and more.
"It's really a testament to the commitment that Fuyao has made to the North American (automotive) market," Gauthier said. "We are really going to be a big player in this market."
On Wednesday, Ohio Means Jobs staff were recording interviews of current Fuyao employees for videos that will be placed on the Ohio Means Jobs website.
Tonya Adams — a West Carrollton resident who worked at the plant when General Motors ran it — said being one of the first employees hired by Fuyao was "very exciting."
"Just to be a part of it, it's history bringing it back," she said.
Former GM powertrain worker John Withrow, a Bellbrook resident and also a new Fuyao employee, marveled at how fast the plant is filling with workers and machines.
"When we came into the building, it was totally empty," he said. "1.4 million square feet of nothing."
GM closed the former SUV assembly plant in December 2008 after operating it for decades. Chinese glass producer Fuyao bought 1.4 million square feet of the plant for $15 million in May 2014.
At an expected $360 million investment, Fuyao's involvement in the plant has been hailed as the largest Chinese investment in Ohio and one of the largest Chinese manufacturing investments in the United States.