Company also to present a learning session during Window & Door Dealer Days – Pleotint, LLC, will showcase its Suntuitive® Dynamic Glass for windows and doors in the Dream Showroom, b
ooth 1517, at GlassBuild America 2015 in Atlanta, Sept. 16–18. The self-tinting glass producer also will present a learning session, entitled "Dynamic Windows: The Future is Now," at 10:30 a.m.,
on Sept. 16, during Window & Door Dealer Days.
Suntuitive Glass provides unrivaled color neutrality and compatibility with glass tints. Because of its ability to adapt to direct sunlight, the self-tinting technology optimizes indoor comfort, views and daylighting, while blocking heat generated from sunlight, glare,
and ultraviolet light without obtrusive window shades or blinds. Suntuitive Glass can be used in new or replacement windows in any shape,
size, or frame material, and installation is the same as traditional systems.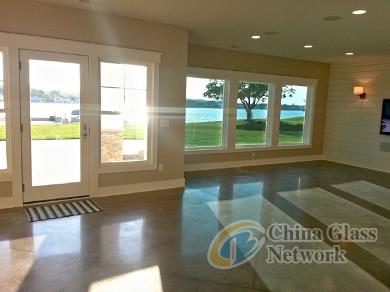 Self-tinting Suntuitive glass, installed in the three windows on the right, continuously adapts to changing environmental conditions—optimizing natural daylight, comfort, and views, while minimizing unwanted solar heat gain, glare, and ultraviolet light.
When paired with low-emissivity glass in an insulating glass unit, Suntuitive Glass provides the best overall performance for u-value and solar heat gain. Suntuitive Glass units can produce visible light transmittance as high as 60 percent in a clear state, s
olar heat gain coefficients as low as 0.11 in a darkened state, and reduce heating-, cooling-, and lighting-related energy costs, which together add up to 70 percent of a building's total energy consumption.
"Dynamic Windows: The Future is Now," is an express learning session for attendees of Window & Door Dealer Days. The 20-minute presentation will explain how self-tinting dynamic glass can offer significant comfort improvements and energy savings to homeowners. Participants will learn how
to incorporate this cutting-edge product into their window offerings and how to sell its benefits to consumers.
In addition, Soft-Lite, LLC, will feature Suntuitive Glass in its window and door displays at its exhibit space in the Dream Showroom.
For more information on self-tinting Suntuitive Glass, stop by the Dream Showroom, booth 1517, at GlassBuild America, or visit www.Suntuitive.com.
About Pleotint, LLC
Pleotint, LLC, is the world's top innovator in self-tinting windows. Pleotint produces Suntuitive® Glass technology that simply uses heat from sunlight to tint windows
when necessary. Pleotint is dedicated to providing customers with naturally brilliant windows that increase energy
efficiency and optimize comfort and views. For more information, visit www.Pleotint.com.