Specialist glass processing company Romag has introduced a new toughened laminated glass range incorporating the highest levels of transparency and durability on the market.
The company's new AirGlaz product combines special anti-reflective properties with maximum strength for bespoke showcase applications where absolute visual clarity and high levels of protection are priority considerations.
The new range has been created using low iron float glass that incorporates the most advanced magnetron sputter coating, which is then strengthened and toughened using advanced thermal treatment processes.
This creates a tough, scratch resistant surface with unique optical properties that allow light transmission of 97% and reflection of less than 1%.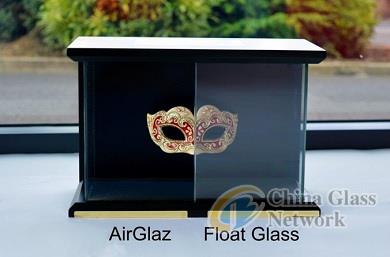 This compares to normal architectural float glass that typically has a light transmission of 90% and a reflection of 8%. In addition, the carefully tailored anti-reflective coating utilised in AirGlaz has been specially designed so that any reflection caught in the 1% factor appears in a dark blue rather than the pink area of the spectrum, helping to remove unwanted glare and prevent distortion.
AirGlaz can be supplied as single or double sided non-reflective units and can also be combined with protective interlayers to create a bonded laminate suitable for a wide range of specialist safety and security glazing applications.
This unique combination of visual clarity, strength and secure properties makes AirGlaz ideal for maximising the uninterrupted visibility of showcase objects without compromising security.
It is available in a range of thicknesses, with multiple size and laminate combinations, with potential applications in high value retail displays, museums and galleries, sporting trophy cabinets and shop fronts, as well as in control towers, corporate offices, zoos and aquariums.
AirGlaz is manufactured at Romag's specialist glass processing and lamination facility that includes the use of temperature and humidity controlled 'clean rooms' to ensure the highest product quality standards.
The company's manufacturing processes are fully certified to ISO9001 and it also holds both ISO14001 and ISO 18001 certification.
www.romag.co.uk