W&W Glass is proud to announce that another unique project is well under way located at 605 3rd Avenue. This NYC office building is home to many corporate tenants in the heart of midtown Manhattan. W&W Glass was awarded the contract from Plaza Construction to renovate the tall lobby entrance and interior glass of this prestigious building owned by Fisher Brothers.
This new exterior enclosure, designed and engineered by facade consultant William Laufs of LaufsED, is a fully custom point-supported structurally glazed system. Unlike traditional point-supported glass that can utilize more standard components, this system required every element to be manufactured specifically for this project. The hardware to connect the fins to the structure, stainless steel patch fittings to connect the face glass to the fins, and perimeter channel framing had to be made to exact specifications. One of the most challenging aspects, however, was procurement and installation of the oversized jumbo low-iron insulating glass units and low-iron tempered fins. These products had to be sourced in Europe to meet the design team's size and quality specifications.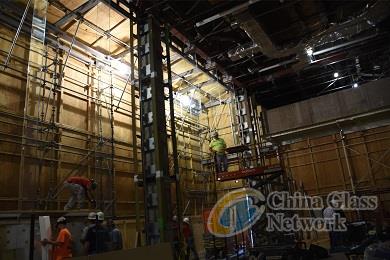 Recently, we set the 5'4" x 23' tall low-iron insulating glass units onto the low-iron tempered fins. Check out this video of one of the large glass lites being lifted up and rotated into place in the facade opening!
Each lite of face glass was installed with over twelve men, multiple scissor lifts, vacuum cups, and overhead chain fall hoisting equipment. The glass was brought to the site as needed each day and had to be stored inside the work area, due to an active sidewalk on 3rd Avenue out front, leaving little room for staging. Moving glass can be easy when you have a lot of space for equipment, but more often than not on projects in major cities like NYC, you end up using some muscle… a lot of it in fact. As a result, precision coordination by the W&W installation team was paramount to safely set the fins and face glass.
In addition to the structural glass walls, we are also supplying two revolving doors with a center all glass swing door in between that will be installed below 15'2" tall insulating glass units on both sides of the lobby entrance areas.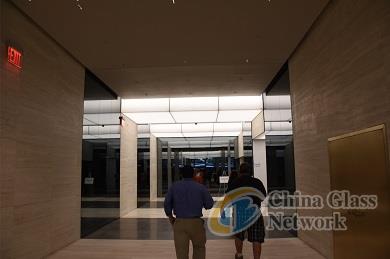 Above, you can see the project lobby and corridors that have been finished with black mirrored glass. This same treatment will be applied to the interior of the new enclosed lobby space with the addition of custom tapered bronze paneling. There will also be a unique feature for guests at the end of the hallway. A viewing porthole in the wall will thrill curious guests as they look through to see a "kaleidoscope" artwork piece.
Make sure to keep an eye on our LinkedIn and Google+ pages as we continue to bring updates, photos, and videos from this top notch renovation. How do you think it's coming along so far?
W&W Glass LLC is a family owned business with a 70-year history in the metal and glass industry, one of the largest metal and glass companies in the New York metropolitan area and the largest supplier of structural glass systems in the country. We have over two decades of experience in the design and installation of various building enclosure systems, including stick-built curtain walls, pre-glazed unitized curtain walls, Pilkington Planar™ structural glass facades, and custom metal and glass enclosure systems. We install all of our work with our own dedicated union labor force. W&W is consistently the largest employer of glaziers in the NY metropolitan area.