Market is constantly changing, information is particularly valuable. By 2015, China Glass Network rooted in the internal corporate entities with a new service concept, making Hangzhou as the center, gradually spreading radius, entering into the glass enterprises on the upstream and downstream around the country to understand the latest developments in the glass industries, and the latest trends in the market.
Recently, China Glass Network came to the Chinese Glass City-Shahe City. As the national famous glass center, Shahe City has a significant important position in the domestic industry. The first visiting station is Zhihe Mirror.
Zhihe Mirror is the leading glass deep processing enterprises of Shahe City, having a modern production workshops and advanced production equipments, strict production management systems, excellent staff teams to ensure products. It is specializing in the production of environment-friendly silver mirror, aluminum mirror, paint, color mirrors and a variety of arts and crafts spell mirror, art mirror home accessories, glass shutter. We can process about 8000000 square meters glass products, whaich are sold well in domestic and exported to Southeast Asia, Africa, South America, Middle East and Europe, etc.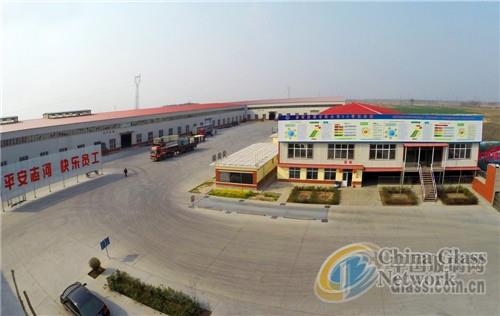 Appearance of Zhihe Mirror Factory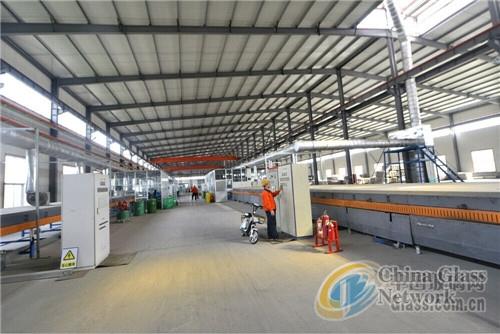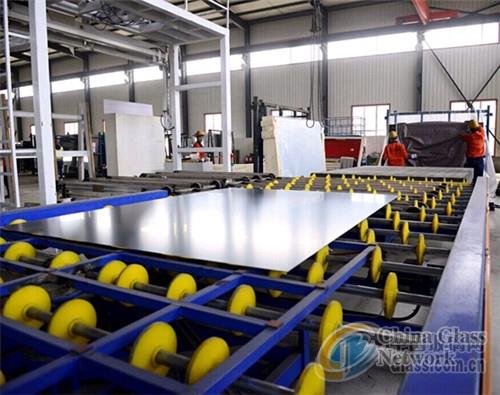 Modern production workshops and advanced production equipments
As the leading enterprise in Shahe City, it is worth our reference and study. And now let's follow the reporter's interview of Chairman Mr. Yao Zhihe.
Reporter: Nice to meet you, General Manager Yao. First, thank you for your time to be interviewed.
General Manager Yao: Nice to meet you! Welcome to Zhihe Mirror Factory!
Reporter: When we entered the gate, we found eight words: "Making Zhihe safety; Let employees happy", which could make us warm. So could you explain your original culture thoughts of these eight words?
General Manager Yao: The workers are the biggest wealth. If workers come to work, he or she must feel happy, reassuring, secured. If he or she feels happy, they will work happily. We always make employees work like being at home, so that it could guarantee high quality.
Reporter: We also know that Zhihe Mirror has one-stop service theme, so what's it?
General Manager Yao: We entered glass industries in 2005, and opened export business in 2006. Many glass factories do not understand "foreign trade" at that time; however, there were so many foreigners come to Shahe. In hence, it must be involved in the export trade. Many factories have export demands, but they do not understand the process. We grasped this chance, cooperated with China Glass Network though some study, using internet to get fresh things, constantly study, providing "one-stop" service theme. We will do perfectly for customers from the product, packaging, loading cabinet, customs, transportation, FOB.
Reporter: Could you talk the developing history for us?
General Manager Yao: Our company was established in August 2005, experiencing more than ten years. We started trade, divided from other enterprises. I receive fresh things and quickly. The public still do not understand what computers can do in the era; I have learned "the Internet" from my friend. After surfing online, I was inspired by some of the commodity advertising, understanding people can sell electronic products, clothing, daily necessities and so on by internet. I thought the glass should also be able to look for business opportunities on the internet! So I began to search for related information on the internet, and then found the China Glass Network and Alibaba, both of them are doing well. So we immediately cooperated with you, it is really a good platform for us.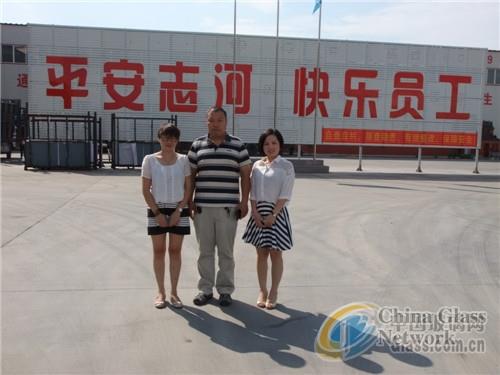 General Manager Yao and reporters of China Glass Netwrok
Reporter: Shahe Mirror also focuses on services. What are the measures in this service?
General Manager Yao: The first is a strict production process: from the beginning of the loading, coating, paint, drying, unloading, we did 15 minutes a standard test, and fill in the quality inspection report. Strict controling product quality. The thickness of the paint, the thickness of the film, and the temperature of the oven are all strict standards. Second is to do the second packing. The product will not be shipped directly after the production line, and must be detected again by the standard procedure before shipping. And then carry out the second packaging, it will load and delivery after ensuring the quality. Third is after-service: the engineers and technicians visit the main domestic customers every three months. I also often visit important customers. Listen to the customer's advice, understand the opponent, so that we can do better.
Reporter: The overall building materials market is not very good, what is your thoughts?
General Manager Yao: there are also good enterprises in such bad time, and also bad enterprises in such good time. It needs all of your efforts. First of all, your products must be excellent, and then the service must be kept up, adjusting the old thoughts. To be willing to accept new things, such as Internet +, and a variety of exhibitions, these are good opportunities for business opportunities. To increase profits of customers, reducing trouble. For example, your dealers only need to purchase and sell;, no other quality complaints or after-sales service troubles, the dealers must be willing to sell your products. Human effort is the decisive factor. Nothing is impossible if you do!
Reporter: When you talk about investment just now, so how about our investment?
General Manager Yao: According to the local sales situation, we find some of the local famous and reputable dealers to work with them. In important areas, such as in Jiangsu, Zhejiang, Guangdong, China, and other places, there are our professional dealers, there are many direct sales in northwest, Jinan.
Reporter: There is a hot topic "environmental and friendly", so how does Zhihe do?
General Manager Yao: We start environmental protection measures from the beginning of the construction. We are the first to get the sewage permit business. Now we also transform the production equipments in the new plants. Now the domestic silver nitrate is also improving, after the reaction of nitric acid silver is the salt, no pollution. We all use activated carbon to adsorb gas odor. We are going to use water paint to make mirror. Now we are working with several paint manufacturers to develop environmentally friendly water-based paint, is expected to be listed next month to use.
Reporter: Thank you very much! We have a deeper understanding of the deep processing of glass industry. China GLASS NETWORK also wishes the future development of Zhihe mirror is getting better and better!