The basics: The Onassis Cultural Center, which houses a wide range of cultural and artistic programs that explore all phases of Hellenic civilization, was recently renovated in order to significantly upgrade and expand the galleries and to give the public space of the Olympic Tower Atrium an enhanced new look. The renovation included the installation of an all-glass staircase that connects ground floors with underground galleries. The staircase is minimalistic in its design and features a cantilevered middle landing.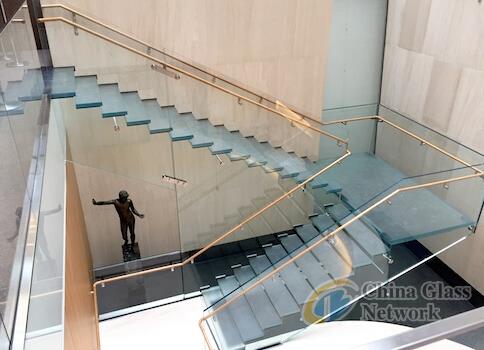 The players: Architect, Perkins Eastman; general contractor, Tishman Speyer; contract glazier, Mistral Architectural Metal + Glass Inc.; glass manufacturer, PPG Industries; oversized glass fabricator, AGNORA; non-slip glass fabricator, Walker Glass.
The glass and systems: The supporting wall is 4-ply, low-iron laminated glass with SentryGlas Plus structural interlayer, laminated by oversize glass fabricator, AGNORA. One end of each stair tread is supported by a 'letterbox slot' in the middle wall, while the other end is supported by a 2-ply 'sawtooth' stringer, laminated to the face of a 2-ply – the total is a huge 4-ply laminate centre wall. The vertical stringers were made with 4-ply glass bonded together by SentryGlas ionoplast interlayers, chosen for its rigidity and clear color. Walker Glass fabricated the non-slip glass for the stair treads.