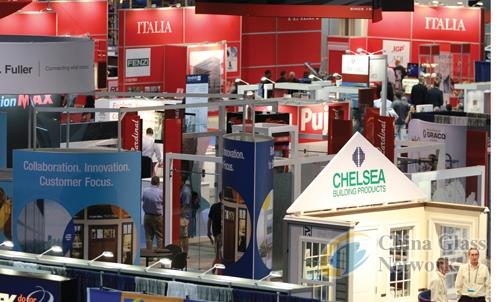 Advanced manufacturing technologies and processes have arrived in the glass industry—a fact evident on the busy show floor at GlassBuild America: The Glass, Window and Door Expo, held Sept. 16 to 18 at the Georgia World Congress Center in Atlanta. From robotic loaders and lifters, to a plethora of CNC lines, to increasingly sophisticated software, exhibitors promoted more efficient and automated solutions to a rebounding glass industry.
Box Scores
Attendance: More than 7,600
Exhibitors: 420
First-time Exhibitors: 97
Innovative Product Pavilion Exhibitors: 50
Exhibit Space: 141,560 net square feet
The 2015 GlassBuild America demonstrated a resurgence of the North American glass industry, with more than 7,600 attendees, up 5 percent from the 2014 show in Las Vegas and up 22 percent from the 2013 show in Atlanta. The show was the busiest since 2008, when the Great Recession hit the U.S. economy.
According to exhibitors, the glass industry's increased focus on automation and technological advancements reflects the changes and challenges presented to companies in the postrecessionary environment. A strengthening construction market is driving demand. However, many companies are struggling to meet supply due to capacity constraints and labor shortages.
"Capacities have dropped; companies are using old equipment that they haven't replaced, and workers left the industry," said Doug Canfield, president and managing partner, Casso-Solar Technologies. "Now there's a need for everything—demand is growing."
As a result of rising demand pressures, many visitors to GlassBuild America came looking to invest in solutions to help increase efficiency, reduce reliance on labor, and more generally increase production capacities, exhibitors report.
Automation and efficiency
While automation has been a growing aspect of the glass industry for a number of years, it took a more central role on the show floor this year. The difficulty in finding labor for companies industry-wide—from contract glaziers to glass fabricators—has prompted many firms to consider more automated solutions.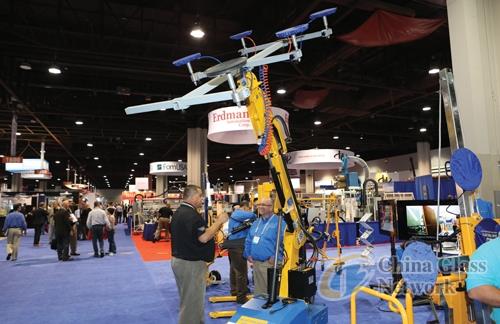 Quattrolifts showed its line of glass lifting and handling equipment.
"Customers come to us and say they have problems hiring people—hiring good people. Additionally, some companies have large factions of their workforce that are over 50. In the next 15 to 20 years, they need to address this," said Jim Tibesar, sales manager, Erdman Automation. "They have to find ways to improve quality and production, even with this shortage of labor."
Solutions such as automated equipment lines reduce personnel requirements in the factory, easing some of the pressures of the current labor shortage, exhibitors said. "If everyone was focused on automation, we wouldn't experience labor problems [to the extent] that we are," said Devorah Serkin, relationship and content marketing manager for Dip-Tech.
Automation can also improve quality and consistency by reducing the potential of human error. "Companies are looking to take opportunities to fail away from the operator. They are looking for more automation; simpler processes," said Bill Briese, R&D/engineering manager for GED Integrated Solutions.
As part of this move to automate processes, robots are entering the glass industry in the field and the factory. On the show floor, for example, GED once again showed its RoboClean Vinyl Corner Cleaning System; Salem Flat Glass and Mirror showed for the first time a robotic loader and unloader for moving glass from one production line to another; and a number of companies promoted their robotic lifters for handling and lifting glass.
"People are using robots to add additional automation to their facilities," said Kip Crabbe, machine sales and logistics coordinator for Salem. "Robots can improve a plant. They cut down on costs and increase efficiencies. They're not replacing jobs, but rather promoting a higher skill set for workers."
The robotic technologies emerging in the industry are not new—they are just new to glass. "This technology has been used in the automotive industry for years and it has been proven. Now, it's getting buy-in from the glass industry," added Steve Brown of Salem.
Investment
While labor is driving a move to more automation, the overarching need for increased capacity is leading to a more general investment in new equipment, machines and software. Companies are replacing old equipment, adding lines, diversifying capabilities and increasing plant optimization and efficiency, all in an effort to meet increased demand, exhibitors said.
"I look at the people that visited our booth and see three types of customers," said Casso-Solar's Canfield. "The first type were companies that have never done [a certain type of fabrication] and want to get into it and learn more about it. The second group already have equipment, but it's old and needs to be replaced. The third group are companies that are doing really well and want to expand."
Several exhibitors report their customers are looking to expand fabrication capabilities, so that they are no longer reliant on suppliers for certain glasses. "A good one third of our business comes from people who are unhappy with their supplier and want to bring those capabilities in-house," Canfield said.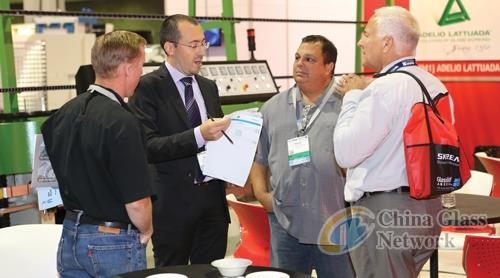 To meet these demands, several machinery suppliers offered new versions of their equipment intended for small- or mid-sized glass fabricators. Dip-Tech, for example, introduced the GP Series of its digital ceramic in-glass printers. The printers, which are about half the cost of the company's full AR Series, offer digital glass printing, but with a smaller output. "With the GR, [digital printing] doesn't have to be the core focus for a company," said Alysa Hoffmeister, vice president and general manager of North America for Dip-Tech. "It offers the same quality, but with a lower output."
This diversification on the part of many glass companies demonstrates an increasing sophistication in the industry, Hoffmeister said. "For this younger generation, these more advanced glass technologies are not scary. … We are seeing the younger generation becoming more savvy and looking to the future," she said.
In addition to investing in equipment, glass industry companies are also looking to invest in software. The show floor hosted a number of software suppliers promoting enterprise resource planning platforms to help companies integrate and optimize their manufacturing processes.
"If you don't have the capacity, then you need to talk about optimization. This helps efficiency, and creates a better-working plant," said Peter Dixen, CEO of A+W Software GmbH, which introduced its iQuote online ordering software during the show.