By incorporating an exclusive PVB film which is more rigid than the plastic films usually used in conventional safety glazing, Stratobel Strong provides enhanced mechanical properties, whilst offering a perfectly neutral appearance.
More rigid, more resistant
The PVB film used in Stratobel Strong is 100 times more rigid than the standard plastic films used, which gives it a higher load capacity; as such, under certain conditions, the toughening process may no longer be necessary. The thickness of the glass can also be reduced, resulting in a thinner, lighter assembly. Stratobel Strong also offers lower glass deflection under load: the laminated glass remains in place even when broken, ensuring safety and security for people and property. The PVB film's strong adhesion to the glass significantly reduces its sensitivity to moisture and limits the risk of delamination, and its composition is also compatible with a wide range of sealants and adhesives.
Ghelamco Arena
Planibel LOW-E - Top N+
Colorbel - Strong
Perfectly neutral appearance
Developed exclusively for AGC, this special PVB film also features a unique, perfectly neutral appearance which does not alter the colour of the glass in any way. This is especially noticeable when AGC's highly transparent Planibel Clearvision is used in the Stratobel Strong assembly. A perfectly neutral appearance is guaranteed, even in very thick versions.
Processing and availability
Stratobel Strong is available in a wide range of thicknesses and in large dimensions up to 321 cm x 600 cm. It can be combined with clear, coloured or coated glass, or highly transparent glass (low-iron content), and can be processed in all the same ways as other laminated glass products.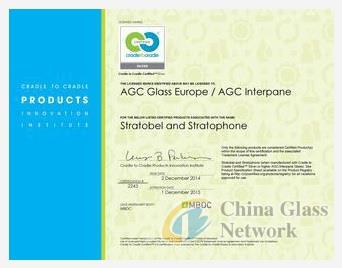 Cradle to Cradle Certified Silver Laminated
Belgium -
AGC service
The technical support and expertise provided by AGC's Technical Advisory Service, together with the numerous tests and certifications available, are on hand to guide you through the design and calculation phases of your project, ensuring compliance with the latest applicable standards and certifications.

Stratobel Strong is Cradle to Cradle CertifiedTM Silver. This new product will be unveiled at the Architect @ Work exhibition in Paris (stand 57), to be held on 19-20 November, 2015!
This press release is available in English, French, Dutch, German, Italian and Spanish at www.agc-glass.eu.
Pictures in high resolution can be downloaded here:
http://www.agc-photolibrary.com:80/photolibrary/press/Stratobel_Strong.html
---
AGC Glass Europe, a European leader in flat glass
Based in Louvain-la-Neuve (Belgium), AGC Glass Europe produces, processes and markets flat glass for the construction industry (external glazing and interior decoration), car manufacture and solar power applications. It is the European branch of AGC, the world's leading producer of flat glass. It has over 100 sites throughout Europe, from Spain to Russia, and employs around 14,500 employees.
More information on www.agc-glass.eu (corporate site),www.yourglass.com (glass for the construction industry) and www.agc-automotive.com (for the automotive industry).