euroTECH expands their range of vacuum handling solutions with a vacuum tube lifter series. The versatile lifting and positioning aids can be used in almost all areas and impress with simple handling and ergonomic single-handed control. The robust vacuum tube lifters are manufactured with high quality craftsmanship, offer the highest standards of safety and quickly pay for themselves. The vacuum tube lifters are available immediately for numerous standard applications. euroTECH offer tailor-made complete solutions from a single source for individual applications.
The models in the new vacuum tube lifter series from euroTECH are called eT-Lift-mini, eT-Lift-eco and eT-Lift-flexi. They ease the workload wherever objects such as boxes, containers, bags, panels or glass panes are to be lifted, moved, turned, stacked or picked – quickly, simply and flexibly. The standard versions of the vacuum tube lifters with oval suction head or double suction cups are available from stock, "ready-to-use" for numerous tasks. eT-Lift-mini with a net weight of 6 to 10 kg and lifting heights up to 1,200 mm accepts loads up to 45 kg. eT-Lift-eco and eT-Lift-flexi with a net weight of 11 to 15 kg and standard lifting heights up to 1,700 mm can move objects up to 125 kg.
With the modular construction of the vacuum tube lifter series, euroTECH offers users much more as standard: The vacuum and handling specialist plans and realises user-specific vacuum tube lifter concepts both for new systems and also solutions for integration into existing operating processes. From concept through to commissioning, and if desired, including optimum positioning and fastening, craning-in and control.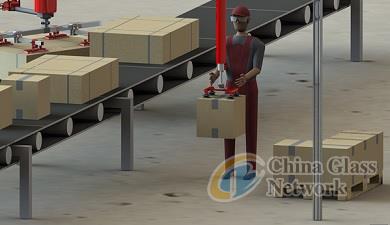 The euroTECH vacuum tube lifters are distinguished by the intuitive operation of the single-handed control, durability, reliability and high safety standards. Their modular and transparent construction enables rapid re-equipping for new tasks. The devices can be equipped with pre-assembled control handles or pistol grips, rigid or articulated extensions each with rigid or articulated control head to suit the respective application. The low number of components, the use of more resistant materials and proven technology result in minimal maintenance burden and low wear.