December 17 Industry and Energy Minister Murat Argunov held a meeting with the initiators of the project Invest "KCR-MEDPRO", implemented by a group of companies in the territory of Megalopolis Nogai district. The meeting was attended by Director General of OOO "Megapolis" Sargis Ghahramanyan, Deputy Head of Administration of municipal district Nogai Aslan Besakaev, CEO of Scientific-Production Center "Glass" Oleg Galustyan, as well as leaders of the energy and gas suppliers operating in the territory of the Nogai district.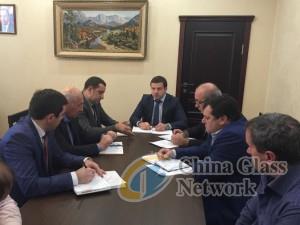 This project involves the creation of a unique production, which has no analogues in Russia. It will be a plant "full cycle" for the production of medical glass of the first hydrolytic class, used in the production of ampoules and vials for sterile medicinal products - medical glass tubes, ampoules, vials, cartridges.
The quality of the glass meets the requirements of the international standard. The project will be implemented on the territory of the Nogai district of Karachay-Cherkessia. Implementation period - 2016-2017 gg. The investor will undertake the construction of the production, the republic's authorities fail to investment site facilities utilities. The new plant will have several types of internal processing and utilities setey.Na meeting discussed issues related to the preparation of the feasibility study for the investment project.
"As for the timing of the project, within 4-6 months, we will start the construction work. During the 2016 construction of the plant will be completed. By 1st quarter of 2017 will already be a furnace for the manufacture of glass. Construction of a glass factory will enable the creation of 250-300 jobs, "- said S.Kagramanyan.
The urgency of the project due to the import substitution program. After the plant at full capacity production of the plant will replace 90% of imports, which comes to Russia, the website of the head of the KCR.
"An important project not only for the country but also for the country. In Russia, this plant is not. The project is not cheap, but quite cost-effective. It comes in the context of what is being said about the import substitution. For the country, in addition to attracting investment, it is, above all, new jobs and increased tax revenue. What is important, in the region it will create another import-substituting production and a number of related industries for packaging, logistics products. Solid This is a good project, which, like all other projects, we are ready to follow in the "manual mode" within its powers ", - said the head of the republic Rashid Temrezov at the signing of the memorandum on the implementation of this project during the International Economic Forum in Sochi.
Source: The press service of the Head and the Government of KCR