Trial batch Cheburashka figures released on Gus Crystal them. Maltsova in the Vladimir region for the 50th anniversary of the character of the Assumption, scattered like hot cakes. Meanwhile, the factory has prepared a figure of Winnie the Pooh, which this year is also the anniversary.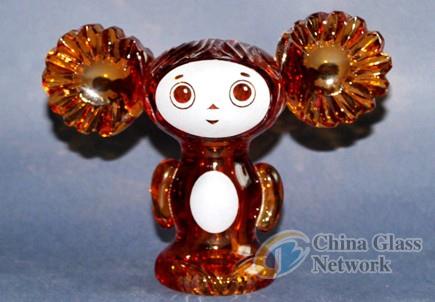 A total of crystal factory in Gus-released "on trial" Cheburashka 5 figures - as is always done with a new product, first cast two to five samples and if there is demand, there will be circulation. Cheburashek in there was only one little thing. Figurines made of amber crystal in the free-blown technology, customers liked, despite the fact that the little Cheburashka is 2.5 thousand rubles. As they say in the factory - it's inexpensive for exclusive products.
As representatives Gus Crystal, a figure for the 50th anniversary of the character of the book Eduard Uspensky (the book was published in 1966) completed a master Svetlana Berezina. By the way, the artist recently won the Audience Award at the All-Russia scale trade fair at the Expocentre "Rook. Winter Fairy Tale - 2015 "- for the figure of" Rooster ", also made of colored crystal in the traditional enterprise Gutnov technology.
Crystal Cheburashka orange - almost orange, joke factory workers. After all, the Assumption strange creature with big ears got its name because having gone through the uncomfortable journey in a box of oranges is constantly strove to "cheburahnutsya", ie fall.
Exclusive figurine favorite lovers, decided to replicate. At the plant say that the next time will be cooking the amber crystal, be sure to make new cheburashek. But then again - no more than 10 pieces. Plus - are not only small Cheburashki but larger figures.
The factory explained that artists glassmakers do not limit creativity, but sometimes prompt "reasons" - that there are some dates that will attract the attention of customers in the coming year. Here and now Svetlana Berezina working on a figure of Winnie the Pooh - the character stories by AA Milne in this year also marks the date of the circular. The first separate edition of the book "Winnie the Pooh" was published 14 oktyabrya1926 year - that is 90 years ago. Crystal Winnie the Pooh from Gusev glassmakers will hit stores branded businesses estimated in March.