Representatives of the company Ohara, one of Japan's leading companies specializing in the production of glass optical quality, announced the start of production of the new ceramic glass Clear Glass Ceramics, which has a higher impact resistance than the best varieties of glass, a special chemical treatment, and has a higher strength than glass fabricated from single crystal sapphire.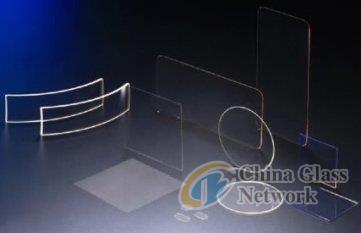 Typically, glass ceramic materials consist of sufficiently large ceramic particles that have a low transmittance, and therefore, are not suitable for use in optics.
Experts of the company Ohara overcome the above problem by using nanoparticles having a size of about 6 nanometers. Thanks to this new glass ceramic has a sufficiently high optical properties that can be used in astronomical instruments, space technology and in household appliances such as SLR-camera.
Small size ceramic nanoparticles cause increased hardness of the new window by 30 percent compared to conventional borosilicate glass. However, impact resistance than the impact resistance of the new glass ordinary glass is at least 10 times. During the test, the surface of the specimens made from various types of optical quality glass from a height of 1.27 meters cast steel balls of different weight and diameter. These tests confirmed the experimental estimates of the strength of the new glass and allowed to quantify the impact resistance of the material.

Samples of glass, metal balls that fell were subjected to microscopic analysis, which showed that the new ceramic glass survived without the slightest formation of microcracks drop a steel ball weighing 10 times the weight of the ball, a blow which ordinary glass begins to crack. These figures make the new glass ideal for coating material screens of mobile electronic devices, for the manufacture of electrical and electronic components, assemblies automotive, aviation, space technology, and, of course, medical equipment.