The basics: The 2015 phase one renovation of the Miami Dolphins' Sun Life Stadium incorporates over 16,000 linear feet of ornamental aluminum and glass railing systems.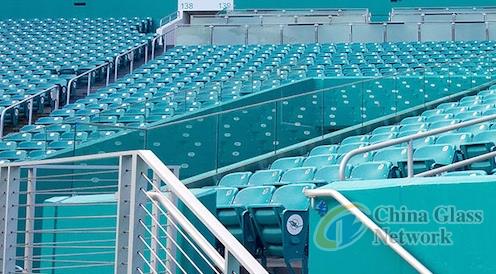 Advantages:
The renovation reduces seating capacity from 75,000 to 65,000 and redistributes thousands of seats from the upper deck to the lower bowl. The renovations at Sun Life Stadium are designed to improve the overall experience of attendees, including views and sightlines, according to the architect.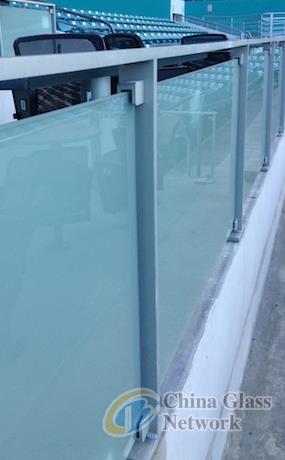 The players:
Architect,
The glass and systems: SC Railing Co. designed, engineered and manufactured over 16,000 linear feet of ornamental aluminum base shoe railing using ½-inch laminated tempered glass with Specialty Glass Products interlayer infills at the redesigned seating bowl entrances.
A custom-anodized aluminum post-supported railing system with a glass infill and frosted interlayer resides in the high-end 72 Club "living room" luxury seating areas located on the home side at the midfield level, in "The Nines" suite areas and in all four corners of the lower bowl. Over 2,100 square feet of large forkliftable seating platforms make up the four premium seating sections in the Field Club, bringing luxury seating at both end zones down to field level.
The frosted glass infill rail at the premium club locations is post mounted, but given the outdoor locations the slabs were sloped for drainage. Setting the proper elevations for the railing and glass despite the sloped slabs was a design challenge, according to officials from SC Railing.
Cable railing with stainless steel fittings were used at the front of the bowl, in ADA seating areas and on stairways leading down to field level. End zone entrances feature over 1,400 square feet of aluminum seating risers installed above them in continuous row seating.