Following the success of its Houdini™ textured flat glass, Bendheim today announced the award-winning Houdini texture as the latest addition to its channel glass lineup. This specialty architectural glass is available to the trade exclusively from

Introduced in 2012, Houdini is an ultra-clear, low iron flat glass with a finely micro-fluted surface. This unique pattern reduces glare and obscures the shapes of people and objects behind it to such an extent, it is as if they disappear.


Until now, Houdini architectural glass has only been available as a flat glass product. Since its introduction, it has garnered several design awards and recognitions, including:
ADEX 2014 Platinum Award for Design Excellence
Architectural Record 2013 Product Report Awards: Top Material
Architectural Products PIA'13 Product Innovation Award
Having succeeded in offering architects and designers the utmost in privacy glass, the Houdini texture was a logical addition to Bendheim's channel glass portfolio.

Channel glass is translucent, U-shaped, machine-rolled ("cast") glass, available in face widths ranging from 9 to 19 inches, lengths up to 23 feet, and thickness of approx. ¼ in. Channel glass' unique geometry allows for virtually seamless glass walls uninterrupted by metal frames. Installed vertically, the glass can span heights up to 23 ft. and limitless lengths – hundreds of feet or more – a distinct advantage over traditional flat glass. It can also create sweeping curved walls without the need for high-cost custom glass bending. The glass channels can be laid out vertically or horizontally, in single or double-glazed configurations.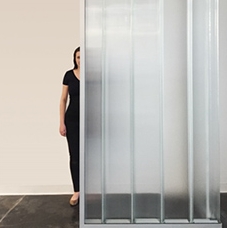 Channel glass wall displaying a mix of 3 textures

Houdini channel glass is produced from regular clear glass featuring a high percentage of post-consumer recycled content (up to 40%), or low-iron (ultra-clear) glass. Bendheim's low-iron channel glass has an ultra-brilliant quality, displaying only the very slightest greenish-blue tint when viewed on edge. It provides a high degree of light transmission, up to 85%.

As a valuable partner, Bendheim's team brings decades of specialty architectural glass experience to building and design professionals throughout the design process, from concept to completion..