As we move towards a low-carbon society, there is a growing demand for advanced technologies and products to reduce environmental impact. In Japan, a government-led "Net-Zero-Energy House" initiative has been launched for residential buildings.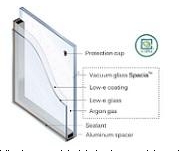 Windows with high thermal insulation have become vital for improving the total energy efficiency in single-family houses, as it is considered that 70 percent of the heat escape through the windows in Japan. NSG Group produces and offers NSG Spacia 21 – a vacuum double glazing with excellent thermal performance used by many Japanese housing makers mainly for applications for cold climates. Starting this spring, Sekisui House, LTD., the largest residential housing supplier in Japan, plans to offer NSG Spacia 21 window options for customers in warmer climates, as well in its Net-Zero-Energy House line called "Green First Zero".
NSG Spacia 21 consists of Spacia™ vacuum glazing and low-e glass. With the thickness of only 21 mm it has a U-factor of 0.7 W/m²K, superb thermal performance equalling a 50 mm glass wool layer, or a nearly double the thermal performance of low-e double glazing generally used in new residential buildings, or 30 percent higher thermal performance compared with triple glazing.
Whilst traditional double glazing systems with a layer of air or gas between glass panes to improve thermal performance have already been used for some time, especially in Europe and the US, NSG Group was the first to successfully add another vacuum layer and commercialize NSG Spacia 21. The Group continues to develop value-added products that can help save energy.