(China Glass Network) Under the support and guide from Ministry of Industry and Information Technology of the People's Republic of China (MIIT), the development alliance for China's fiberglass and composite materials was established by the sponsor of China National Materials Group Corporation (SINOMA) and 46 related upstream and downstream enterprises, colleges and scientific research institutes.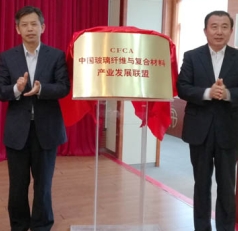 There was a founding conference in Beijing on April 27th, 2016. On the conference, "The ordinance of the work of China's fiberglass and composite materials" was issued. In addition, another ordinance named "Articles of the alliance for China's fiver glass and composite materials" was passed. Li Xinhua, the general manager of SINOMA, was elected as the general manager of the first council.
On behalf Xin Guobin, the vice minister of MIIT, Lv Guixin claimed that fiberglass and composite materials were widely used in building materials industry. In recent years, they has developed rapidly and played a large leading role in this industry. SINOMA and about 50 enterprises will work together to improve their competitiveness based on a collaborative innovation platform.
Lv Guixin set 4 goals and objectives for the alliance. First, the alliance must optimize factor resources. Second, new pilot projects for new products needed to be organized and new applications to be promoted. Third, it was necessary to promote new products' access to the market by conforming to standard specifications. Fourth, the alliance needed to take the application of fiberglass and composite materials as the ultimate goal.