Promotions for two key people have further strengthened the management team at Edgetech UK, the leading voice for energy efficient glazing.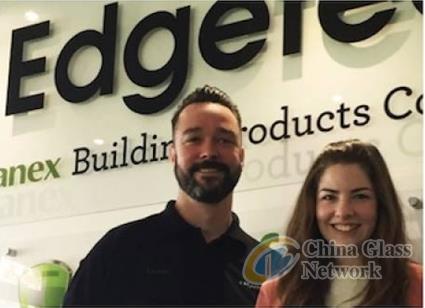 Top team at Edgetech
Edgetech's Managing Director Chris Alderson identified the abilities of Charlotte Davies and Karl Jones and gave them the good news of their new positions at FIT Show.
Charlotte and Karl have 19 years of service between them. Karl becomes Technical Services Manager. "This is an important role within Edgetech," said Chris. "Our technical team has a high level of glass unit manufacturing know-how which is well appreciated by customers. Technical Services Manager is a newly created role, and Karl's knowledge of our products and manufacturing makes him the ideal person to head up the team to give practical production support to customers."
Charlotte is the new Head of Marketing. A well-known marketer in the industry, she has been at Edgetech since she was 18. "Charlotte has been the driving force behind many of our recent campaigns to make Edgetech the leading voice for energy efficient glazing. The latest demonstration of her ability was Edgetech's success at the FIT Show. I am looking forward to seeing her build on and strengthen the Edgetech brand values in her new position. Charlotte will continue to grow the marketing support on offer to customers through our award winning scheme Dealership Plus," said Chris.
Charlotte added "It was a great moment when Chris announced that Karl Jones and I were being promoted and I'm very excited about my new role as Head of Marketing."