Since opening its doors in May 1996, The Studio of The Corning Museum of Glass has captivated teachers, students and countless other people with the magic of glassmaking, with material accessible to beginners and advanced students, encouraging exploration, collaboration and creation.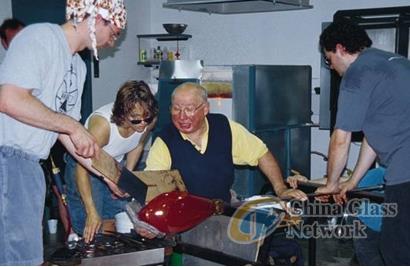 Corning Museum of Glass Studio celebrates 20th Birthday
The Studio has come to be recognized as one of the best glassmaking studios for artists to learn and create work, and on May 26, it will celebrate its 20th birthday with one hot party.
"For the past two decades, The Studio has been the incubator for emerging artists and a place for students and artists to learn and grow. Through The Studio, many artists have developed a deep love and respect for the art of glassmaking, and for the material of glass itself," said Amy Schwartz, director of The Studio. Schwartz moved to Corning in 1995 with her husband, Bill Gudenrath, to start The Studio. "We are delighted to celebrate this milestone birthday with all the people who have helped The Studio grow: students, artists, instructors, staff, and Museum visitors," she said.
Each year, The Studio has added new programs and expanded the opportunities to learn different techniques. In its 20 years, The Studio has hosted more than 100 resident artists and 20,000 students; awarded 800 scholarships; and now enables 6,000 people in groups and 60,000 Museum visitors to make their own glass each year.
"The Studio has created a global community of artists interested in glassmaking," said Denise Stillwaggon Leone, a glass artist who has taught many classes at The Studio. "It is renowned and revered, and draws people from all over the world to teach, study, and learn. It is a mecca, the sine qua non of workshops. It is an inspirational experience to be a part of The Studio.
"The Corning Museum's stellar collection instructs and inspires all of us," she continued. "Comprehensively, The Studio, with all of its brilliant facets, shines most brightly in the constellation of the glass art world."