Beatson Clark scooped the design award at the Glass Focus 2016 Awards, part of the annual British Glass Conference which was held at Dynamic Earth in Edinburgh.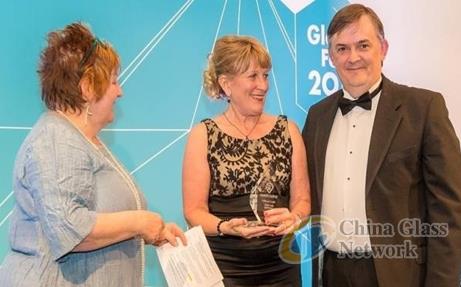 Design Prize for Beatson Clark at Glass Focus Awards
The Yorkshire-based glass manufacturer won the glass design category for its bespoke bottle design for STORY Drinks range of fruit pressés.
、
The bottle features an embossed pattern around the shoulder which reflects the company's branding.
Beatson Clark's Director Sales and Marketing Lynn Sidebottom and Director of Quality Eddie Pickering received the award from Davia Walmsley, Creative Director at sponsors Daedalian Glass Studios and President of the British Glass Board.
"We're extremely happy to have our creative design work acknowledged by the industry," said Lynn.
"The embossing on this bottle, although delicate, really shows off the brand and the product, so we are pleased that it has been recognised as innovative design."
Julian Sollom, Director of STORY Drinks, commented: "We commissioned this bottle as part of rebranding exercise for our range of soft drinks. Working very closely with Chris Palmer and the team at Beatson Clark we were able to come up with a very elegant design that has become the foundation of the re-branding and has been incredibly positively received by both our trade customers and our consumers alike.
"I would personally like to thank Chris and the wider team for all their help in bringing the project to life and it is an honour for the design to have been recognised with such a prestigious award."
The Glass Focus Awards are organised by British Glass and showcase the outstanding breadth and quality of achievement in the glass industry.
The judging panel was chaired by Dave Fordham of Glass Worldwide and included Iain Ferguson, Environmental Manager at the Co-operative Group, and Bruce Nicol of Dow Corning's High Performance Building team.