Bohle has expanded its range of high performance convex safety and security mirrors, improving visibility, security and helping to avoid injury in a wide variety of applications.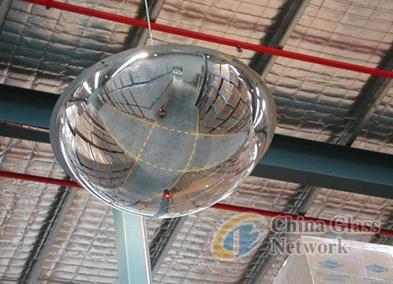 Suitable for use in warehouses, hospitals, factories, retail and custodial environments, and eliminating 'blind corners' in car parks and other areas where there is a risk of a collision, Bohle's DuraVision range is designed to support businesses in reducing the risk of injury by visibility in high risk areas.
Bohle's acrylic vacuum metalized, DuraVision mirror range has been developed to be highly durable and deliver the highest levels of performance, reliably producing crystal clear images. With a five-year warranty on selected products and supplied either with suited telescopic pins or brackets, available, the range is flexible enough to accommodate multiple applications.
Alic McCabe, Business Development Mangaer, Bohle said: "DuraVision mirrors are metalized from 99 per cent pure aluminium, which means that they deliver an incredibly crisp and clear image. This eliminates distortion which is often associated with lower quality products.
"Their application is broad, from logistics and warehousing environments to retail and custodial sectors, which means that the market potential they offer to glass processors is as significant as it is diverse."
Bohle's offer in the warehousing and logistics sector includes a wide-angle full dome ceiling mounted and half dome wall mounted options, delivering 360° and 180° viewing areas, each ideal for collision avoidance. Bohle also offers a dedicated range of forklift truck mirrors including a Rear Vision Half Dome Mirror with a wide 180° viewing area and high impact standard mirror.
A standard fully adjustable convex mirror, economy mirror option and a stainless steel flush fit wall mirror also provides a highly cost-effective way to achieve a wide area view in retail environments.
Bohle correctional mirrors have been developed as a specialist solution for the custodial environment. Manufactured to be highly resistant to attack featuring a steel powder-coated casing and tough almost indestructible polycarbonate facing. This means that they are suitable for use in cells, where monitoring of inmates or young offenders is critical. Options include a ceiling mounted dome cell mirror, a half face cell mirror and quarter face cell mirror.
"The market opportunities for safety and security mirrors are sometimes easy to overlook. Larger commercial or public sector contracts can provide really good volume and return. Our range has been developed for multiple markets – custodial, retail, and logistics, plus general use and car parking", said Alic.
He concluded: "We believe it represents a very real and so far under-exploited area of opportunity for glass processors."
For more visit the Bohle website