Vetrotech Saint-Gobain, the world-wide specialist in fire resistant glass solutions, is launching Contraflam® Mega for interior applications. Contraflam® Mega responds to increasing architectural demand for ever taller glazed free spans between floor to ceiling, without intermediate joints or framing. With a maximum width of 2,300 mm and height of 4,600 mm, Contraflam® Mega provides the largest clear insulating fire resistant safety glass available on the European market.
Its large dimensions allow for greater opening sizes, which are particularly ideal for use in atriums, lobbies and stair enclosures. For architects, Contraflam® Mega means more freedom in design and a variety of multi-functional options such as sound reduction or screen printing for individual design, while at the same time maintaining the fire safety level. The association of Contraflam Mega within popular Jansen VISS facade profiles has led to the design of an elegant system solution with minimized sight-lines, which considerably enhances visual transparency while letting more daylight into the building.
About the launch of Contraflam® Mega Anita Eckardt, Director Sales Europe says: "After many months of research and development, including the extension of our industrial capabilities, we're proud to announce the launch of Contraflam® Mega, supporting new construction trends for larger glass sizes in buildings. Our Contraflam® Mega solution has already been selected for the construction of Forbury Place offices in Reading, England, where the first panes have been installed in the grand atrium. Together with renowned metal work specialist Arkoni (
The launch of Contraflam® Mega culminates the successful testing at Efectis Nederland B.V, which comfortably achieved EI 30 classification within the Jansen VISS fire facade system. Bi-directional fire resistance has been proven with two 30-minute tests from either side, ensuring complete integrity and insulation, regardless of the origin of the fire risk. This new system solution also preserves all the other multi-comfort and design characteristics for which Vetrotech products are known.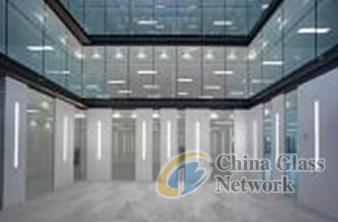 For architects, Contraflam® Mega means ensuring fire safety, while enhancing freedom in design and a variety of multi-functional options and decorative treatments.
Installers can handle and install this over-size solution with confidence; Contraflam® Mega panes, like all Contraflam products, are made from fully tempered safety glass, which reduces the risk of breakage on site. In addition, our regional techno-commercial support teams are always available for any kind of project or application advice.