The "Neftyanik" Palace of Arts, a new cultural centre located in Surgut (the oil capital of Russia), opens its doors to the public this summer 2016.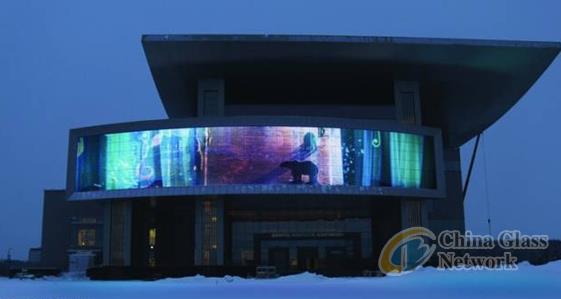 Architectural innovation for Palace of Arts in Surgut, Russia
With nothing else like it in the region, this unique, multi-purpose venue has been designed to bring the arts to the people of Surgut, and will house an exhibition and event space, opera and concert halls, a youth cultural centre, dance school and more.
Architecturally, the complex brings together state-of-the-art construction technologies and innovative materials, including Glassiled Motion, a product exclusive to AGC, which was used specifically to implement the design concept. The product features embedded LEDs powered via a transparent conductive coating, combining the striking aesthetics of glass, where the core function is transparency, with unique lighting technologies. Glassiled Motion can change the appearance of the building, filling it with bright colours and showcasing its architecture in a different light. Animated facades will transform the cultural centre into a magnet for creative minds to use it as a unique canvas for displaying their original concepts.
Buildings like the Neftyanik Palace of Arts are not only an important milestone in the country's cultural life but also exemplify the breathtaking speed of technological evolution in architecture and construction. Glassiled Motion is ideal for both facades and interior glazing and complies with the most stringent requirements in terms of moisture and damage protection, while retaining its appearance, solar control and thermal insulation functions. The invisible conductors have no impact on the building's appearance, enabling Neftyanik to convey the most imaginative design ideas.
The architectural lighting for the building was designed, developed and installed by MT Electro.
A video showing the animated facade is available at: https://www.youtube.com/watch?v=BgozUy7kqJ8