The integrated sales to installation service provided by AGC, Glass Express (Midlands) and Abbey Glass has resulted in the stunning use of Lacobel back painted glass for the reception and lift lobbies at One Central square, a brand new office building and the first of five phases in the redevelopment of Central Square, Cardiff.

Designed by Cardiff based Rio Architects and completed in March this year, One Central Square totals 135,000 sq ft, spread over nine storeys with basement parking and showers. The state of the art office complex meets BREEAM 'Excellent' standards and has been built to allow maximum natural light to penetrate throughout each floor.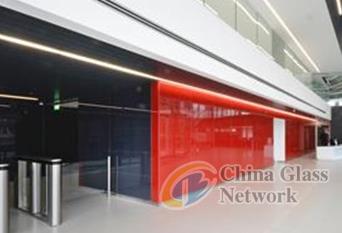 Decorative painted glass has been used to maximum effect for the impressive double height entrance foyer and reception area, with a striking back wall featuring AGC's Lacobel Safe in Luminous Red. Controlled access leads to a café area and the central lift lobby, the surrounds of which are also clad in Lacobel painted glass in contrasting Anthracite Grey. This specification continues through the core of the building on all nine floors, representing around 800m2 of AGC Lacobel installed in total.

Comments Claire Broad, Head of Interior Architecture at Rio Architects: "We wanted the glass walls to add depth and create interest, enhancing the impact of the clean lined, minimalistic interior design. The depth of colour provided by the red Lacobel really captures the eye, not only upon entering but also on approaching the building itself, helping to highlight the reception area.

"Our research into back painted glass led us to contact AGC glass who were very helpful and provided samples together with a CPD presentation on their decorative glass products.

Main contractors Willmott Dixon appointed glass processors Glass Express Midlands to supply the Lacobel panels cut to size and delivered on site ready for installation.

"As accredited suppliers of AGC Lacobel, we were delighted to be involved with this prestigious project", said Bill Singh, MD of Glass Express Midlands. "The specification called for around 800m2 of Lacobel painted glass in varying panel sizes of up to 2.6m x 1m, all with polished edges and safety backing."

"This project demonstrates the proactive approach AGC takes to support its customers by working closely with specifiers to help secure contracts, and we are looking forward to working with AGC on future projects."

Locally based glazing specialists, Abbey Glass (Cardiff) were appointed by Willmott Dixon to install the Lacobel glass panels and, following a site visit, a detailed floor by floor layout was prepared identifying each piece of glass with its location. "Precision planning was crucial with so many panels of differing sizes", said Operations Manager Joseph Willis, "and, in particular, to ensure uniform gapping between the prominent large panels in the foyer."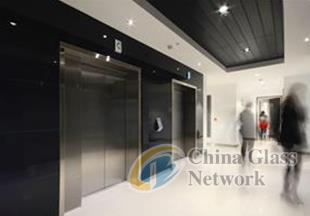 Working from the top down to the ground floor lobby and reception area, installation took about 12 days over a four-week period to accommodate usage and wall availability due to other building work in progress. "AGC Lacobel is a great product to work with as its durable colour finish is not only scratch resistant making it easier to handle, but also its depth of colour gives a superb, uniform finish. This was the first time we had used Lacobel on a project of this size and we would welcome the opportunity to install it again the future."

Claire Broad says: "We are very pleased with the final result which, as envisaged, further strengthens the building's contemporary design. The impact of the red glass wall has only generated positive feedback and its reflective qualities also maximise the effect of the slot lights used to create another layer of interest. We would certainly look at specifying Lacobel and other AGC products for future projects."

In conclusion, having been involved with the project throughout, AGC's Regional Manager for the south, Richard Brookes, comments: "One Central Square is testament to AGC's turnkey service to generate, sell and manage a project through to completion.