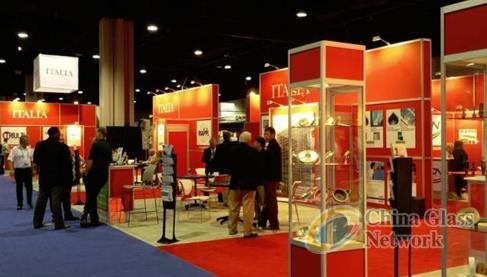 GlassBuild America plans in full swing
According to organisers early registration numbers for the 11th annual Glazing Executives Forum on October 19 are already 'through the roof' for a day of dynamic and knowledgeable speakers, peer-to-peer sharing on common challenges, and plenty of networking opportunities. The Forum schedule is available at:http://glassbuild.com/glazing-executives-forum.html.
Window & Door Dealer Days to Feature "Designing a Dream Showroom" Keynote Panel Discussion
Window & Door Dealer of the Year award winners will share their experiences creating their own "dream" showrooms, walking attendees through each phase of the process, from strategic design, to product selection and placement, to common mistakes to avoid. The discussion will be followed by a networking break with the keynote panelists in The Dream Showroom, giving attendees the opportunity to speak one-on-one with keynote panelists to discuss their own showroom strategies and challenges.
The full 2016 Window & Door Dealer Days agenda is available at: http://www.glassbuildamerica.com/window-door-dealer-days.html.
More Companies Announced for The Dream Showroom
WDDA has announced that Flexscreen LLC, ODL and PR Germany will participate in The Dream Showroom, along with previously announced companies: LaCantina Doors, Loewen, Panda Windows & Doors, Pirnar, Plastpro, Renoworks and Summit Automation. Based on feedback from dealers and suppliers alike, this year's Dream Showroom has been revamped and elevated to feature residential fenestration products and technologies in an upscale home-inspired 3,000-square-foot showroom.
Stay tuned at http://www.glassbuildamerica.com/dream-showroom.html to learn about exciting developments and more participating companies as they're added.
GlassBuild America Mobile App coming soon
With advances in technology, organisers say that if you have a smart phone and have never tried the GlassBuild America mobile app, this is the year to download it. Powered by core-apps.com, the show app has so many useful features, it will truly enhance visitors' show experience.
Here are just some of the things the app can do:
• Show up-to-the-minute Exhibitor and Event information
• Build a personalized schedule and bookmark exhibitors
• Interactively locate exhibitors and education sessions using the Maps feature
• Rate and comment on the education sessions attended
• Connect with like-minded attendees
• Join the conversation or just follow the trends on social media
The app goes live in early July and will be updated regularly throughout the summer. Detailed download instructions will be available online at http://www.glassbuildamerica.com/app.html and in next month's newsletter.