Brin Glass Co. is making a few moves this year to improve efficiency and set itself up for future growth.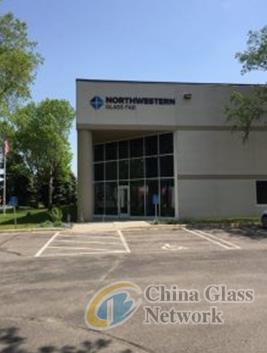 Northwestern Glass Fab's new facility
The Minneapolis-based company relocated and renamed its distribution and fabrication division in May. That business, formerly known as Brin Northwestern Glass Co., is now called Northwestern Glass Fab and is stationed in Fidley, Minn., just outside Minneapolis.
Meanwhile, the company's Minneapolis-based contract division, Brin Contract Glazing, will move to Brin Glass Co.'s headquarters with its service division, Brin Glass Service, by August 1. The headquarters facility previously housed the distribution and fabrication division.
Its two subsidiaries, Heartland Glass Co. Inc. in Waite Park and St. Germain's Glass Co. in Duluth, are operating as usual.
Bill Sullivan, president of Brin Glass Co., says these moves were made for a number of reasons, particularly the growth opportunity of Northwestern Glass Fab, which is now operating in a facility nearly 50 percent larger than its previous home.
"We outgrew the facility we were in, so that prompted the need for a larger space," he says. Along with that, we decided we really wanted to separate that division from the rest."
Sullivan says all of the company's other division have an installation component, while the Northwestern Glass Fab is strictly a glass and aluminum fabricator.
"We sell to a lot of glass dealers and contract glaziers that end up being competitors to our other divisions," he says. "So we really wanted to distinguish that."
Sullivan says the name was a "big change for everyone," both internally for employees and externally for customers.
"The Brin Northwestern name has been out there so long and has such a great reputation, that it was hard for people to understand the need for the change initially," he says. "But it starts to make sense, especially for our customers when they come out to see our new facility and see how efficient it is."
The move didn't come without challenges.
The company began planning the relocation last August to work out logistics and new order systems. Brin then took possession of the building February 1 of this year and gutted it for a remodel. It replaced windows, created a new office space, added a new HVAC system and implemented new lighting, among other things. The actual move-in took the entire month of May.
Still, Sullivan says the company only lost four to five days of production. "I'm really proud of the way our team came together for this," he says.
While the fabrication division now has more room to work, so will the contract division when it moves to the company's headquarters. "There will be lots of room to grow there, too," says Sullivan.
Northwestern Glass Fab currently has 45 employees, including general manager Stan Mariska, who Sullivan notes is the last employee who worked at the original Northwestern Glass Co. prior to its merger with Brin Glass in 1978. The contract and service divisions combine for 80 employees.
Brin Glass was established in 1912.