Bringing a tired 1970s landmark office building back to life, architectural aluminium systems from Technal have been installed at Nine Bond Court in Leeds to create the high specification and contemporary exterior this prestigious commercial address deserves.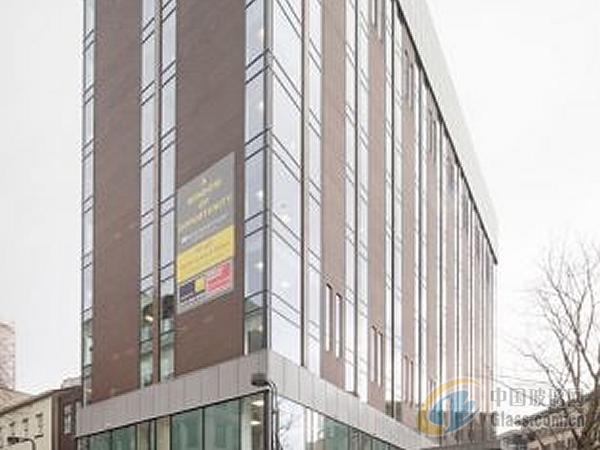 Located in the heart of Leeds' Commercial Quarter, 12-storey Bond Court, which provides approximately 60,000sq feet of office accommodation, has been a city centre landmark building since it was built in 1976, originally housing insurance company Royal Sun Alliance.
Constructed, in its day, to a very high standard, the Tudor brick and Baltic Brown granite external envelope, coupled with original bronze-coloured glazing and brown back painted spandrel panels, epitomised the design of this controversial architectural era. So much so, its dominant appearance led people to refer to it as 'the brown building'.
In 2005, the building underwent extensive refurbishment to upgrade the building's M&E systems and internal works, but the external envelope was left untouched at this point.
The property was purchased in 2013 by its current owner with global real estate services provider Savills advising on the purchase. The latest phase of improvement to the building has been designed by Leeds-based Think Architecture + Design, and involved the comprehensive refurbishment of the external envelope.
Particular consideration has been given to the fenestration and entrance arrangement, meaning Technal's systems have played an important role in improving both the building's image and environmental performance.
The new façade features Technal's MX Visible Grid curtain wall system to create floor to ceiling glazing, maximising natural daylight and giving the building that much-needed contemporary look.
Project architect and director of Think Architecture + Design Jonathan Wilson explains how the glazed elements were created: "The original single glazed aluminium windows featured small panes of bronze tinted glass, which not only cut out daylight but absorbed the sun and radiated back into the building making the building a challenge from a heating and ventilation perspective. The old windows had deteriorated and leaked air too, so were draughty.
"To create the new façade the design team agreed to remove the solid dado wall internally to allow floor to ceiling windows to be installed to increase daylight and give the building a contemporary feel. At the corners to the building the first thoughts were to introduce a full height glass to glass joint; however, after review it was agreed to introduce a corner mullion and then install a large window adjacent in order to take full advantage of the high level views over Leeds. Technal offers a good range of systems and it was its MX system that was selected to house the floor to ceiling height, clear solar control glazing. Typically, the vision unit sizes were 2.7m high x 1.2m wide with the corner units 2.7m high x 2.3m wide. Also, we were meticulous about choosing exactly the right grey for the frames, opting for a dark grey powder coated finish. Smaller lookalike spandrel panels were also installed in a more neutral grey colour."
To rebalance the building, make the entrance more prominent aesthetically and to improve accessibility, the base of the building has been reconfigured too.
Technal's MX curtain walling and automated double CD commercial doorswith an additional single exit door were installed to ground and first floor level adjacent to the building's reception area, creating an impressive double height entrance with mullions spanning 7m in height.
The heavy-duty Technal CD doors are ideally suited to the high traffic nature of a busy office like Bond Court.
Also featured on the project are Technal's FXi65 top hung windows, which replaced existing windows like for like, helping to deliver a finished building that heats up more quickly, stays warmer for longer and costs less to run.
Supporting the architect from a design perspective, manufacturing the systems and co-ordinating the installation of the works, managing director James Sutherland of fabricator Dortech knows Technal and its products inside out, he said:
"Technal offers a good level of service, which is great on a project like this. Its systems are reliable and work well both from a performance and architectural perspective. As this building was 80% occupied during the refurbishment, work had to be undertaken to fit around the building's users, which meant careful planning, with much of the work completed out of office hours. The results are impressive though."
Commenting on the completed building Savills' project manager, Scott Green, said: "Externally, Nine Bond Court has been transformed and the fully glazed reception creates a bright, welcoming entrance. The team has worked hard to ensure that the building's facade reflects the contemporary approach we've taken internally, which is just what our clients are looking for."