Even if Atlanta was hit by hurricane Irma just before the show, exhibitors' enthusiasm for GlassBuild America was not influenced.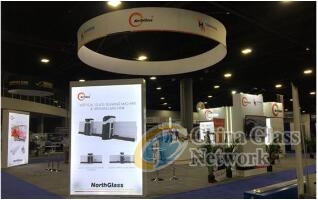 On 14 September, GlassBuild America 2017 ended with happy exhibitors. The event attracted 450 exhibitors from all over the world, although somewhat affected by hurricane Irma. Among them, 110 exhibitors were Chinese enterprises, the highest number compared with the past. Chinese enterprises are focusing more on international markets.
As reported, exhibiting products included glass equipment, equipment for windows, glass deep-processing, building glass and accessories. China Glass Network was also at the show to see the full range of products from global glass enterprises.
Atlanta was already suffering from hurricane Irma before 12 September, and thus created problems for people coming to the show and the overall numbers of visitors was, in fact, lower than the previous event.
According to official data, GlassBuild America attracted 450 exhibitors from all over the world, including 110 Chinese companies, the first time that China had the highest number of enterprises attending.
There were numerous Chinese companies at GlassBuild 2017, such as Jinggong, Xinyi Glass, NorthGlass, Jinjing, LandGlass, and Hopo, with Hopo making its debut in an international expo.
During the event, China Glass Network carried out live broadcasting, introducing the latest exhibits, technology and services of the glass industry.