(China Glass Network)
GLASSTECH ASIA is the largest international glass expo in Asia, attracting many glass and machinery manufacturers all over the world every year. It is organized annually and has long been famous for a name of "Glass Center of Southeast Asia", in which people in this field can be offered opportunities to know more about glass raw materials, glass manufacturing, cool treatment and product forming.

China Glass Network is going to attend the 15th GLASSTECH ASIA in Singapore with its fully English version book-Chinese Glass Suppliers, a book promote Chinese manufacturers and traders to overseas markets.
DATE: November 22-24, 2017
Venue: Marina Bay Sands Singapore
BOOTH: T36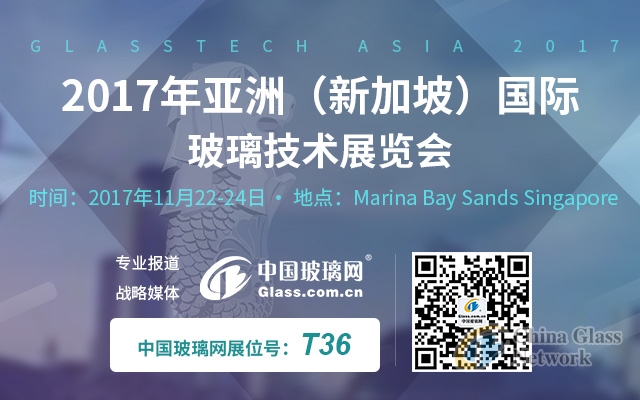 Exhibits:
This year's Glasstech Asia also covers a wide range of products:
glass & glass related products(flat glass, building glass, glass curtain wall, hardwares etc.
glass production: accessories & tools, materials, cooling end technology, computer system etc.
glass processing & polishing: art glass machinery & equipment, decoration tools, drilling tools, etc.
Overseas market expansion with Glassinchina
www.glassinchina.com was set up in 2003 and now with 14 years' experience it has
developed into a professional media for glass industry's overseas market expansion.
Users are able to see "China Glass" at the first page of Google Browser. Each visitor
stays this website for at least 3 minutes. China Glass Network has also attended 13
overseas exhibitions. We also published Chinese Glass Suppliers to overseas buyers.
Glassinchina specializes in foreign trades. It is experienced in foreign trade promotion
and has cooperated with German, Indian, Spanish, Italian media. Its footprint has
covered Asia, Europe, North America, and Africa.
The 15th GLASSTECH ASIA to be held in Singapore is really a good opportunity for
people to get deeper knowledge about the glass & deep processing industry and
display their products & solutions for the industry.
We are waiting for you at T36!