The first edition of the Tecglass Open House was a huge success.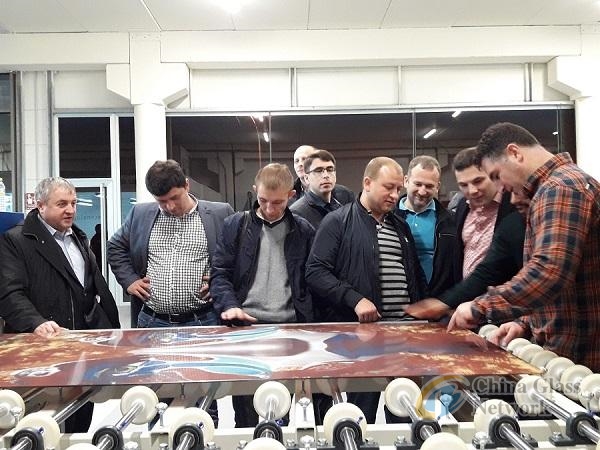 The 5-day event – held November 7th to 11th– invited customers of the Spanish company (which became part of the Fenzi Group in 2016) to uncover the secrets of the most cutting-edge technology for digital printing on glass, right in the working heart of the company.
The first event was dedicated to customers from Russia, the Ukraine, Kazakhstan, Armenia, Uzbekistan and the Baltic states.
But the Tecglass Open House 2017 is part of a series of events that will bring the top industry professionals from around the world for a hands-on experience with the company's entire production process, the complete digital printing cycle and the many unique features of the entire range of Tecglass products – from digital printers to graphics software, to its auxiliary line components and latest-generation inks.
Inside the Digital Glass Printing Technology Center – the innovative Tecglass showroom and demonstration space – live demonstrations of digital printing really captured the attention of the guests, who were able to see, up-close, the performance details of the innovative Vitro Jet F Type SIDE KINETIX machine, just recently launched in the marketplace.
In fact, SIDE KINETIX is an innovation that has had a unique impact on the market – by changing the print direction on the glass, it ensures customers the advantage of greater production speed and efficiency, while maintaining all of the most advanced features of the F Type range.
With the Vitro Jet F Type SIDE KINETIX model, the head moves crosswise to the printing carriage. Even with glass sizes larger than the carriage, it's possible to consistently print in the direction of the long side of the glass; that is, in the easiest and fastest manner. A truly unique technology for an even more versatile machine, one that dramatically increases print efficiency.
The Spanish company, digital branch of the Fenzi Group, actively partners with Tvitec to support international designers and architects in the creation of the most state-of-the-art architectural projects, contributing to achieving the perfect blend of aesthetic appeal, durability and technical performance essential to modern architecture. And, appropriately, the Spanish plant of Tvitec was another key destination during the event.
"Opening the doors of the company to international glass professionals gives us the opportunity to exchange ideas, experiences and know-how, and to sustain long-lasting relationships. We are extremely pleased with the admiration for our technologies expressed at this event, the first leg of a journey in which we would like to involve delegations from around the world – according to Javier Fernandez, founding partner, along with Manuel Ramos, of Tecglass – Focusing on glass and the drive to innovate have been part of our DNA since we began the business. We have always tried to go the extra mile, to offer something more than what was already available, to give our customers the best. Our objectives are still the same: to improve the print speed, precision and ease-of-use of our machines, and consistently expand the range of products available. The results are evident and are a source of great satisfaction."