(China Glass Network)
The 6th China Shahe Glass Trade Fair will be held in the Shahe International Exhibition Center from March 10th, 2018 to 13th, 2018. The exhibition will bring together many glass circles, such as building glass, decorative glass, artistic glass, mechanical consumables, etc., with the theme of "innovation, exchange, pragmatism and cooperation", emphasizing the idea of innovation and pragmatism, and focusing on the new forms, opportunities and challenges of glass industry development.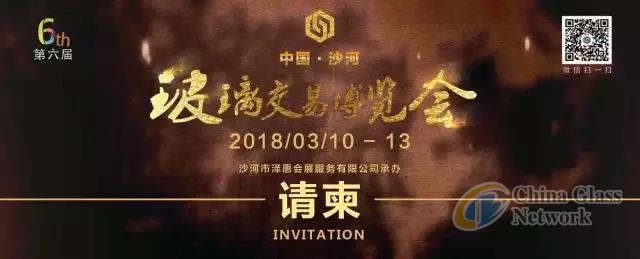 The glass industry is the traditional pillar industry of Shahe, whose annual output of flat glass alone accounts for 20% of the whole country and 10% of the whole world. Looking back at the 5th exhibition, the number of participants was nearly 20000 and the turnover reached 15 million, attracting nearly 200 well-known manufacturers to participate in the exhibition.
In order to provide better quality services for glass enterprises, China Glass Network will send an interview team to directly attack the exhibitors' front lines and contact with enterprises from zero distance, in order to get close to the user's point of view and provide more intuitive interviews for the audience. More real business dynamics and new products introduced, of course, the mobile phone will also synchronize live koala report, do not let off any wonderful moment of the exhibition scene! China Glass net booth No.: B43, welcome to visit us for guidance!