(China Glass Network)
The 5th Top 10 China Glass Brand Appraisal-Golden Glass Award Ceremony organized by China Glass Network will be held at Jumeirah Himalayas Hotel Shanghai, which is located at No.1108, Meihua Road, New Pudong District, Shanghai, on the afternoon of April 18, followed by the 29th China International Glass Technical Exhibition from April 19th-22nd, with our booth of E7-035.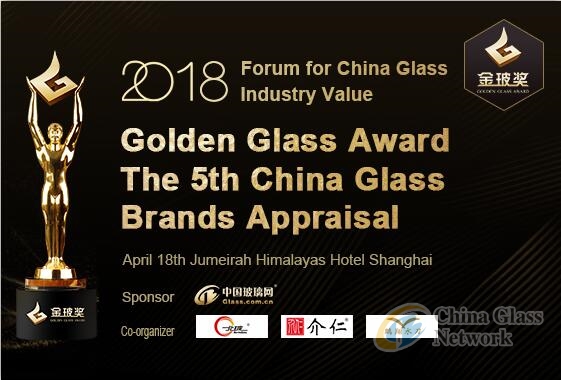 Since China Glass Network launched the 5th Top 10 China Glass Brand Appraisal vote on 18 January it has experienced a vote period of nearly 3 months, and now the result is going to show you next month Jumeirah Himalayas Hotel Shanghai, with a lot of experts, manufacturers, traders, ultimate-end users and medias engaged in glass industry coming to this industrial forum.
All the evaluation processes will be checked and appraised by professional experts and experienced technicians from the glass industry.
The Enterprises award includes the Top 10 Brands respectively for leading companies in fields of sheet glass, decoration glass, appliance glass, glass chemical accessories/materials, building glass, glass products, glass tools, glass machinery & equipment, forerunner for "Belt & Road", and emerging outstanding companies.
The Product award covers:
* Innovative product award (10 enterprises)
* Personal Award:
* Prize for Outstanding Contributions (5 people);
* Prize for Glass craft (10 people)
* Prize for Outstanding Young Entrepreneurs (10 people)
Last but not least, voted companies can get the "On-line Popular Award" as long as the vote number results first in the corresponding category.
Welcome to us!