Xinyi Glass Holdings Limited, an investment holding company, produces and sells automobile, construction, float, and other glass products for commercial and industrial applications. Xinyi Glass Holdings is one of Hong Kong's large-cap stocks that saw some insider buying over the past three months, with insiders investing in more than 8 million shares during this period. It is widely considered that insider buying stock in their own companies is potentially a bullish signal. The MIT Press (1998) published an article showing that stocks following insider buying outperformed the market by 4.5%. However, these signals may not be enough to gain conviction on whether to invest. Today we will evaluate whether these decisions are bolstered by analysts' expectations of future growth as well as recent share price movements.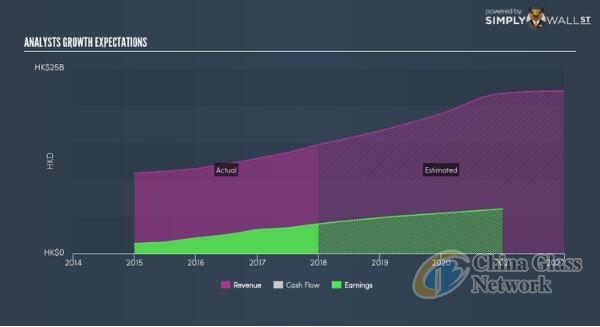 Which Insiders Are Buying?
There were more Xinyi Glass Holdings insiders that have bought shares than those that have sold. In total, individual insiders own over 2279 million shares in the business, which makes up around 56.7% of total shares outstanding. Insiders that have recently ramped up their holdings are: Ching Wai Li (board member) and Nang Sze Sze (board member) .
Does Buying Activity Reflect Future Growth?
On the surface, analysts' earnings growth projection of 50.08% over the next three years provides a great outlook going forward which is consistent with the signal company insiders are sending with their net buying activity. Delving deeper into the line items,Xinyi Glass Holdings is believed to experience a double-digit top-line growth over the next year, which seems to flow through to its expected earnings growth of 20.46%. Improved cost management and sustained high revenue growth could lead to higher earnings growth in the future. Insiders recognising these benefits as defensible may accumulate their shares in the company. Another reason could simply be they deem the shares under-priced given the growth potential the business could produce.
Did Stock Price Volatility Instigate Buying?
Alternatively, the timing of these insider transactions may have been driven by share price volatility. A correlation could mean directors are trading on market inefficiencies based on their belief of the company's intrinsic value. Within the past three months, Xinyi Glass Holdings's share price traded at a high of HK$13.4 and a low of HK$10.38. This indicates reasonable volatility with a change of 29.09%. Insiders' purchases may not be driven by this movement but perhaps their view of the company's growth in the future or simply their individual portfolio rebalancing.