(China Glass Network) Approached by 5G communication technology, 3D glass is one of the most important materials for smart phones. With annually surging demand on 3D curved glass, full-screen phones and 3C industry will face more opportunities and challenges.
To deal with forthcoming opportunities and challenges better, the 2nd Shenzhen International 3D Curved Glass and Manufacturing Technology Exhibition together with the 11th International Touch Screen Technology and Equipment Exhibition will be held at Shenzhen Convention and Exhibition Center from 21st June to 23rd June, 2018. This event is organized by Zhongrui Exhibition, China Communication Industry Association, CCIA--3D Curved Glass Branch, Taiwan Electronic Equipment Industry Association, and Guangdong Touch Control and Application Industry Association. The exhibition area covers 38,000 square meters for providing 1,580 booths and visitors amount is expected to reach 39,800.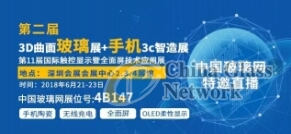 China Glass Network is scheduled to attend this exhibition. Established in 2001, as a professional platform offering E-commerce services in glass industry, China Glass Network always uphold our core values as "Sticking to the spirit of integrity, Focusing more on results, and Being eager for change", and we will offer tailored services and products to those companies and industries focusing on 3D curved glass, touch control display, 3C mobile phone automation, new materials for mobile phone and electronics, high-end film materials and new energy film industry.
Our booth: 4B147, China Glass Network welcomes you to talk and join us.