Office design has the power to impact productivity, foster collaboration, bolster creativity, attract new clients, and help attract and retain employees. Gone are the days when office interiors meant little more than rows of cubicles. Modern office design now ranges from traditional, enclosed offices to fully open plans, with every possible design concept in between.
As companies strive to make their workplaces more flexible, interior glass has become a popular choice. Glass partitions display a contemporary appearance, provide natural light and views, and offer degrees of sound and visual privacy depending upon the glass finish selected.
Interior glass partitions may be traditionally constructed in place permanently or may be considered demountable. Demountable interior glass partitions have become a common choice due to potential tax benefits.
WHAT'S DEMOUNTABLE GLASS?
Demountable interior glass systems are made of non-load-bearing, non-permanent glass partitions that can be removed when a tenant vacates a space. They can also be rearranged easily to offer a client workplace flexibility.
Demountable interior glass wall systems are available as stick built or unitized. Stick-built systems are constructed in place by a glazier. Unitized systems are prefabricated in a factory and then assembled on site. A multitude of glazing and framing options in both stick-built and unitized systems offer aesthetic variety while optimizing sustainability and functionality in the commercial interior environment in less space than traditional framed and sheathed walls.
While traditional glazing systems are found in CSI Division 8: Doors and Windows, most interior demountable glass partitions are found in CSI Division 10: Furniture, Fixtures, and Equipment. AGI member glaziers perform work in both divisions and can serve as valuable resources for designers considering demountable glass partition systems.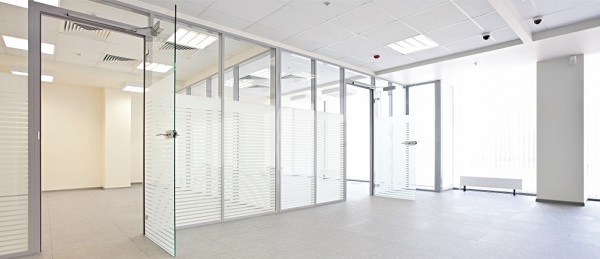 SYSTEMS FURNITURE
Commercial office furniture manufacturers have embraced the look of glazing and begun offering glass demountable partitions as part of their systems interiors and furniture collections. Whether incorporated into modular components or provided as individual elements, glass provided by a furniture dealer is generally NOT installed by a professional glazier.
AGI glaziers can partner with architects and interior designers early in the design process to offer recommendations that maximize value at the best price. Glaziers can develop, document, and fabricate custom solutions that meet aesthetic and functional goals while supporting accelerated tax depreciation benefits.
To understand the differences between glass and systems furniture, request AGI's Interior Demountable Walls fact sheet or detailed Interior Demountable Walls Expertise booklet describing glazing types and systems, features and controls, cautions and concerns, and the many advantages professional glaziers provide. AGI also offers an Interior Glass Guide Specification with sample spec language and instruction.
ACCELERATED DEPRECIATION
Demountable partitions are considered a tenant's personal property, such as furniture, qualifying for accelerated tax depreciation versus longer depreciation for stick-built permanent walls or fixtures. Systems installed by a glazing contractor qualify for accelerated depreciation. Items do not need to be purchased from a furniture vendor to qualify.
QUALIFICATIONS
Qualifications for accelerated tax depreciation include:
Not intended to remain permanently in place.

Installed and removed quickly and with little expense.

No damage to building upon removal.

Non load-bearing.

Serves the passive function of protecting tenant assets.

Not installed during building construction.

Not meant to remain when a tenant leaves.
TWO ACTS
The Protecting Americans from Tax Hikes Act (PATH Act) of 2015 changed some of the depreciation rules on qualified leasehold and other improvements. Generally, the cost of commercial real estate improvements is claimed over 39 years using the straightline method of depreciation. Thanks to the PATH Act, qualified leasehold, restaurant, and retail property improvements can be depreciated over 15 years using the straight-line method.
Tax reform under the Tax Cuts and Jobs Act (TCJA) of 2017 also has significantly impacted individuals and businesses. Tax rules have changed, and companies should be aware of how different accounting methods can impact their tax obligations, especially when it comes to depreciation methods for personal property and leasehold improvements.
Ceilings, doors, and non-load-bearing walls fall into the type of improvements that may qualify for accelerated depreciation. Demountable interior glass partitions fall neatly into this category.