Taiwanese tycoon Robert Tsao will offer a highly important pouched-shaped enamel glass vase of Qianlong Emperor period for over HK$200 million (US$25 million) at Sotheby's Hong Kong this fall.
A Qianlong period enameled glass vase from the collection of Robert Tsao will lead Sotheby's fall sale of Chinese works of art. Courtesy of Sotheby's
Tsao, founder and chairman of United Microelectronics Corp., Taiwan's first semiconductor company, acquired the piece for a record-breaking HK$24 million in 2000.
Enamelled glass vessels in the Qianlong period, painted in Western styles with vibrant colors, were by far the most complex and demanding of all works of art commissioned at the Beijing Palace Workshops.
The one from Tsao's collection is the most successful of all surviving examples, Sotheby's said.
Measuring 18.2 centimeters in height, the glass vase is in the shape of a pouch—which in Chinese is a homophone of "a package of luck and fortune"—with a pink sash tied at the neck; a pair of phoenix soaring amid clouds and peonies, one bud with the blue-enamel mark; and a four-character seal mark reading "Qianlong Nianzhi" (which means "made in the Qianlong period").
The vase is "arguably one of the finest objects ever made at the Forbidden City and the greatest example of Qing Dynasty art in private hands," said Nicolas Chow, chairman of Sotheby's Asia, in a statement.
The vase also comes with a prominent provenance. It was originally kept in the collection of Prince Gong (also known as Prince Kung, 1833-98), later passed through the hands of A.W. Bahr, Paul and Helen Bernat, and Joseph Lau.
A.W. Bahr was born in Shanghai in 1877 to a German father and a Chinese mother. He founded the Central Trading Company in 1898 and assembled a collection of Chinse works of art, pieces of which were donated to the Metropolitan Museum of Art, the Royal Ontario Museum of Archaeology, and the Montreal Museum of Fine Arts.
The Paul and Helen Bernat are renowned collectors in Chinese works of art, especially of the Qing Dynasty. The Paul and Helen Bernat Galleries at the Museum of Fine Arts in Boston was named in their honor in 1990 and houses some of their important collection of Chinese ceramics.
Joseph Lau, a Hong Kong billionaire who controls the investment holding firm Chinese Estates Holdings, bought the piece in 1988 and sold it at an auction in 2000 to Tsao, who has kept the vase for almost two decades.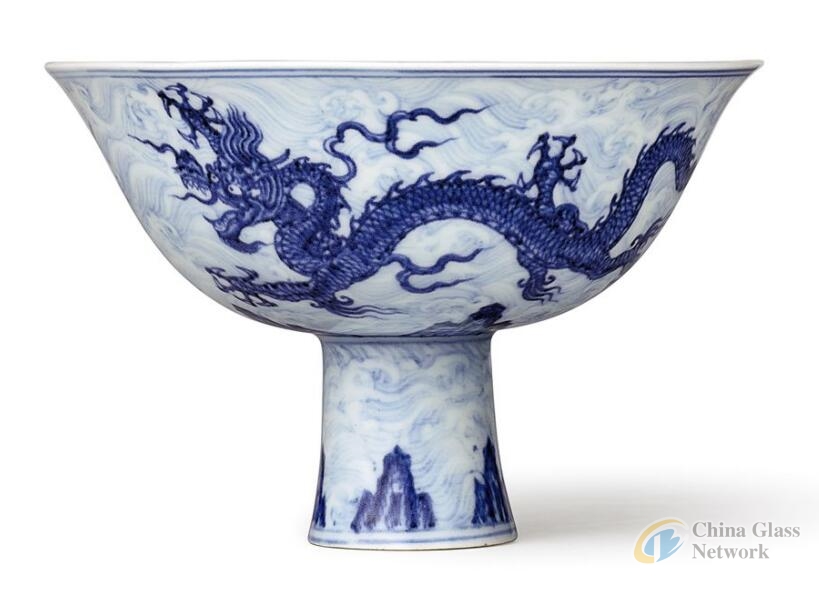 The vase will lead Sotheby's sale of Chinese works of art on Oct. 8. Other highlights of the auction include a blue-and-white "Dragon" stem bowl, and a blue-and-white "Day Lily" palace bowl, both from the collection of Alan Chuang, chairman of Hong Kong-based investment firm Chuang's
The "Dragon" stem bowl of Ming Dynasty Xuande period (1426-1435) is expected to fetch in excess of HK$60 million; the 'Day Lily" bowl, created in the Chenghua (1465-87) reign and ranked among the most coveted of all Chinese ceramics, is expected to fetch in excess of HK$50 million.
Additionally, important pieces from three important private collections will be offered at Sotheby's sale. Highlights will be open to public viewing at Hong Kong Convention and Exhibition Center from Oct. 3-7.