Dear exhibitors, visitors, and our partners:
Since China Glass 2020 was postponed, we have been paying close attention to the development of the COVID-19 epidemic situation at home and abroad, maintaining close communication with relevant institutions of the Shanghai Municipal Government and the expo centre, and actively discussing the new date of China Glass.
At present, the domestic epidemic prevention and control work has achieved significant results, but the overseas epidemic continues to spread. Quarantine requirement and travel restriction in many countries will bring a lot of effects to our event organization work. In order to ensure the health and safety of exhibitors, visitors, and relevant staffs, protect the interests of each party, and guarantee the exhibition effectiveness and experience, the Chinese Ceramic Society has made prudent consideration and decision that 31st China International Glass Industrial Technical Exhibition will be rescheduled to 6 – 9 May 2021 at Shanghai New International Expo Centre.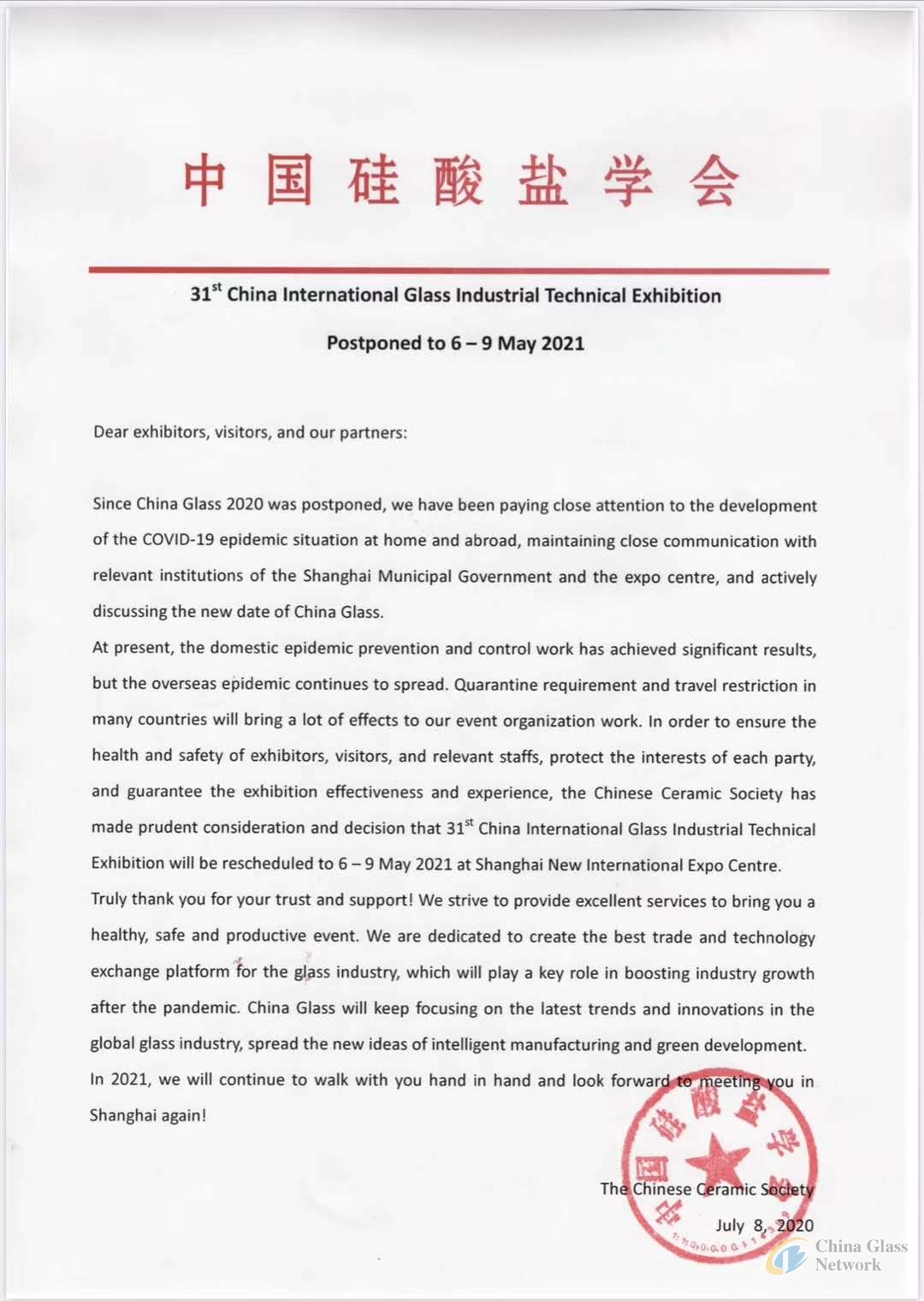 Truly thank you for your trust and support! We strive to provide excellent services to bring you a healthy, safe and productive event. We are dedicated to create the best trade and technology exchange platform for the glass industry, which will play a key role in boosting industry growth after the pandemic. China Glass will keep focusing on the latest trends and innovations in the global glass industry, spread the new ideas of intelligent manufacturing and green development.
In 2021, we will continue to walk with you hand in hand and look forward to meeting you in Shanghai again!
The Chinese Ceramic Society
July 8, 2020