LUCKEY, Ohio — A new glass-making plant in Troy Township is scheduled to open before the end of the year, but there is still one more hurdle to clear.
Construction on NSG Group's massive float glass plant is nearing completion, however the coronavirus pandemic is causing delays in certain materials arriving from overseas. Todd Huffman, NSG's overall project manager for solar projects, said those materials will need to arrive soon.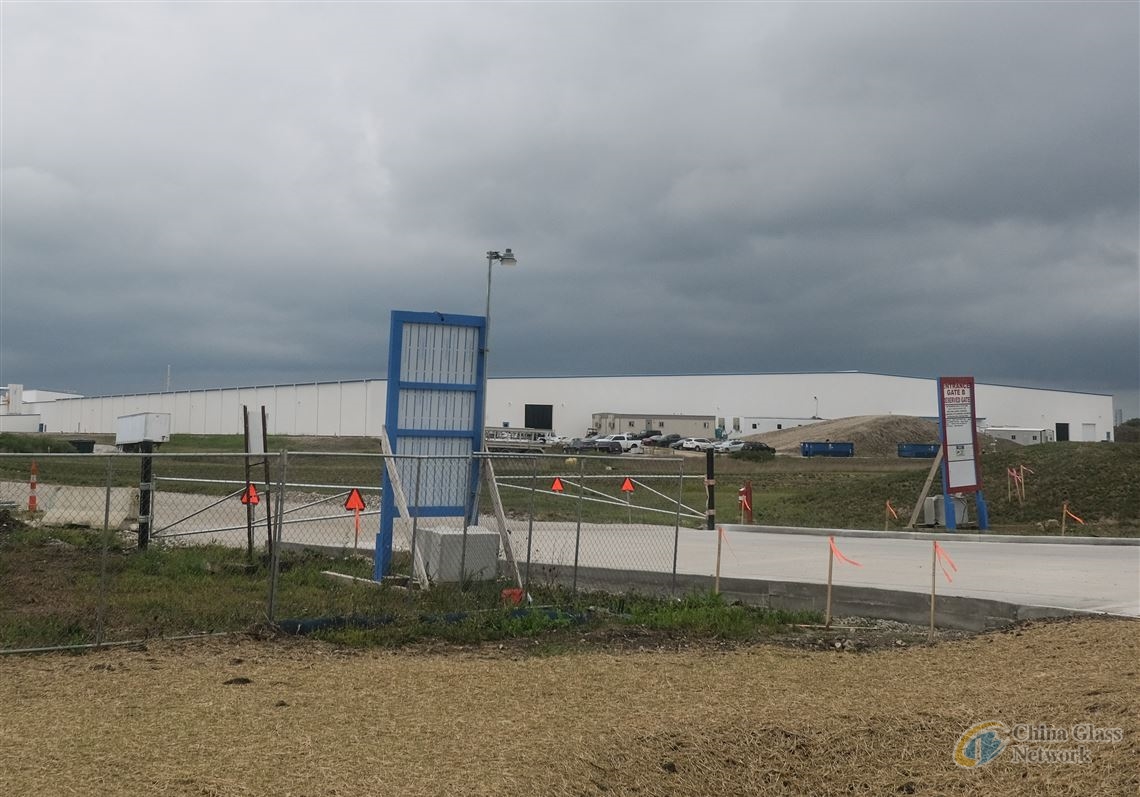 "Some of our key technical resources with coating installation are coming from Europe," Mr. Huffman said. "It's becoming critical to receive that in the next few weeks. If we're not able to get some key technical resources into the country, it will probably delay things. So we're working hard to get that key personnel onto the site."
Overall, though, the $265 million project is coming along well and has not run into many issues despite the global pandemic. Mr. Huffman lauded the work of several local contractors, including Rudolph Libbe and GEM.
Wrangler introduces Jeep's first electric-powered vehicle
About 450 contracted employees are working on the site to wrap up construction in the next few months.
"We're at a point now where there are two major steps," Mr. Huffman said. "We have to light the furnace in October some time. It takes about three weeks to get that up to temperature. Then we can 'pull the ribbon' as they say."
Mr. Huffman said plans are to start the coating process in November and begin production in December.
The pandemic led NSG to make some subtle changes to the building. For example, everything in washrooms will be touchless, which was not in the original plans.
The 511,000-square foot glass plant is located on Pemberville Road just south of U.S. 20. It will create 110 hourly jobs and 40 salaried positions.
The plant will produce 600 tons of specially coated glass a day or 130,000 tons annually, about 70 percent of which will go to First Solar operations about 10 miles away to the northwest. Demand for solar is rising and the industry is expected to continue to grow as companies and communities strive for energy independence.
Wood County Economic Development Director Wade Gottschalk said the county worked with the company throughout the process. The two sides had an existing relationship stemming from NSG's Rossford plant.
The Blade
Huntington Bank announces $20 billion community commitmen"The job creation, especially coming at this time, is going to be very helpful to our force," Mr. Gottschalk said. "These are good jobs with great pay and benefits. Eastwood Schools will receive over $300,000 a year, so that's a great benefit too. When you have economic development, it tends to spur other development as those new employees generate business in the area."
Brian McMahon, a commercial real estate developer marketing the property, believes NSG's new plant will lead to other development. Home Depot already has a large fulfillment center on the site.
Mr. McMahon said there are about 250 acres remaining.
"What we've learned is it's getting that first major user to catalyze the site that is the big challenge," Mr. McMahon said. "When you have companies like NSG and Home Depot endorsing your location, it goes a long way to get other companies to look at that and come to the same conclusion that these two major companies did their investigations to select a site."
The state-of-the-art plant is NSG's first new U.S. glass-making operation since 1980. It has a glass plant in Ottawa, Ill., that currently supplies First Solar.
Three other states were competing for the new plant, but NSG chose the Luckey site for its numerous advantages.
The Toledo area's labor workforce, the site's close proximity to two natural gas lines, an electric plant and a major power substation on Pemberville Road, and quick access to First Solar, all made the Troy Township site extremely attractive.
But it was a railroad line on the site that put Troy Township over the top.
Toledo's manufacturing roots in the glass industry are deep, with the city acquiring its "Glass City" nickname through the efforts of turn-of-the-century glass inventor-industrialists like Edward Drummond Libbey, Michael Owens, and Edward Ford setting up operations in Lucas County.
Edward Ford's original glass plant in Rossford opened in 1899. NSG still makes float glass there with state-of-the-art glass-making technology.
"I started with this company in 1985 and this is the first new furnace we've built in over 40 years," Mr. Huffman said. "This is a huge deal to expand capacity in North America, and to do it in Toledo is very important to us and the community."
Dan Knecht, who'll manage the Troy Township facility when it opens, said the new plant will be superior to Rossford in a very important way — the ability to make transparent conductive oxide glass, or "TCO." First Solar will use the specially coated glass for its new and more powerful Series 6 solar panels.